The time has come, a table has become available at the Ritz, so let's sit down and chat about Good Omens, both the television show and the book.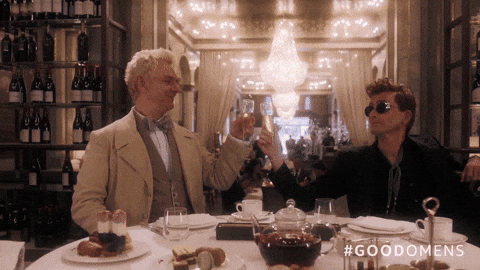 First, some boilerplate: for those of you who might be joining in for #CannonBookClub for the first time (hello new friends!) all are welcome. The topics are numbered, and we ask that you refer to them below by that number to help people find the conversation topics they are looking for. If you are responding to someone else's thoughts, please try to reply directly to them and also tell us about your own ponderings on the book and show. While we've never once had to use it and don't expect to now, comments that are not germane to our discussion will be removed.
We will also be talking on our Social Media platforms, and of course in our Facebook group, TONIGHT at 7:30 p.m. Eastern MsWas and I will be doing a Facebook Live Chat and we'll have some additional prompts for Saturday in Cannonball Read Book Chat, so please join us.
On to the topics:
How does it make you feel? What resonates with you?

To what extent did it fit with your expectations, or did it subvert them in some ways?

Narration can be hit or miss, did you enjoy Frances McDormand's narration? Wish it was someone else?

Which bit of casting surprised you? 

How do you feel about the visual style of the show?

Neil Gaiman is the "author" in both contexts of

Good Omens

, he cowrote the book and served as showrunner and writer. Is that a strength of a weakness?

How well is the series made? What are the particular strengths and weaknesses? 

How are genre conventions reinforced or subverted?

How does the show's editing contribute to the meaning of

Good Omens

?

Does the show/book inspire more hope and faith, or more despair? Will it encourage viewers to have courage, or will it inflame their fears?

I've got thoughts and opinions that don't neatly fit in the topics above, meet me in the comments.