The second Harry Potter book is not my favorite in the series. It's not bad, it's just not my favorite. I am going to assume that if you are reading this review you are familiar with the series and I'm not going to worry about spoilers.
That said, it's the one where some very important political ideas are brought forward – most importantly, how do we divide ourselves, how do we treat people who are not exactly like us?
Dobie the House Elf makes his first appearance and introduces us to the plight of non-human magical beings. "Mudblood" makes it's first appearance too. The idea of blood purity (racism) was introduced in the first book, but in Chamber of Secrets, the divisions within the wizarding world are more established. The concepts of exclusion, multiculturalism, and racism are set up and they play throughout the series. Rowling hasn't just set up a series long antagonist with Voldemort, She's established a world view that existed long before Voldemort and will continue after his defeat. That's a pretty radical concept to introduce to small children.
Another subversive idea that Rowling continues in Chamber of Secrets is that not all adults are trustworthy. In Sorcerer's Stone, Quirrell was untrustworthy because he had been corrupted by Voldemort. Gilderoy Lockhart needs no external corruption. He is an entirely different kind of evil. Although he isn't on the side of blood purity or world domination, he is such a narcissist that he is willing to harm children for his own benefit. The Dursleys, of course, will always be their own kind of lesson in intolerance.
On a lighter note, we get more of the Weasley Twins, which is always a good thing. If Rowling hadn't screwed everything up in the last book, these guys could have made millions with their Adventures with Gerd and Forge tv series. I guess they still could if a certain someone comes back as a ghost.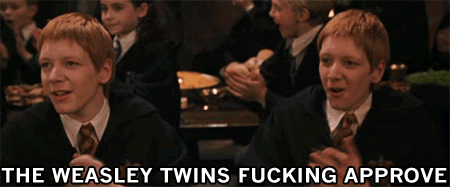 And finally, for Natalie