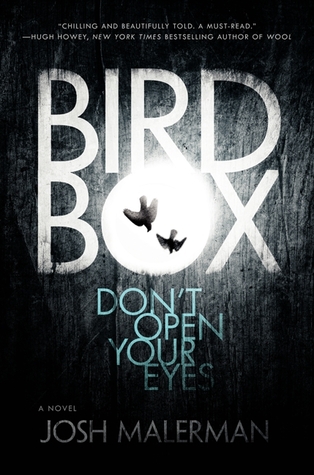 This was a creepy, weird and incredibly effective horror book. If you're into that sort of thing, don't read the review — just go read the book. I wouldn't recommend finding out too much ahead of time. That being said, it has two little kids in it and I totally admit to googling whether or not they made it to the end!
"In a world where you can't open your eyes, isn't a blindfold all you could ever hope for?"
Mallorie lives in a world of blindness. Five years ago, people began seeing…something…that made them go crazy, killing themselves and others. She somehow survived, and now lives with two small children, unable to look outside for fear of seeing that something. She's trained the children from birth to live in a world that values hearing over vision. And now she's decided that it's time to leave their home in search of something safer — a journey that will require them to navigate the outside world without being able to open their eyes.
THIS BOOK SCARED ME TO DEATH. I listened to the audiobook, mostly while running, and it had me twitching and looking over my shoulder. The narrative switches between their current situation (the journey), Mallorie as the attacks initially occur (while she's pregnant) and the time she spent training the children as babies. Honestly, the training stressed me out more than anything — she has to reward little babies for keeping their eyes closed and some of her punishments made me wince. But if I could handle it, you can, too — and the rest of the story is so worth it.