I'm officially obsessed with this series. I loved the first book so much; a queer revenge story where contemporary witches plot to get the best of their sketchy ex and overthrow a family with too much power? Yes please. The second book was solid and enjoyable, but not queer, so it didn't stand out as much in my mind. This book though? Super queer with a main character who isn't always the most likable, but is trying to be better for the people she loves and her community. Plus magic and cool world building. It's like the author wrote this specifically for my tastes.
Nina Blackmoore is part of the aforementioned powerful family, but she's seen by the community as one of the more down-to-earth, reasonable Blackmoores. She's still reeling from a failed engagement when her friend convinces her to go out on a low-pressure date with someone she'd never choose for herself. That someone is Morty Gutierrez, a non-magical, nonbinary owner of a local pub. They meet up and there is sizzling chemistry, but they quickly realize they have a history, and neither can see pursuing a relationship with each other. Unexpected magical developments ensue, and they find themselves bound to each other metaphorically. It's a fun twist on the suddenly married and enemies-to-lovers tropes.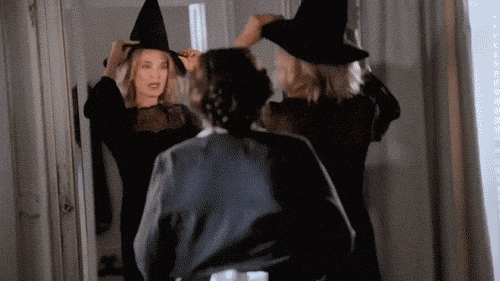 Loved these characters so much. It was fun to get our first peek behind the Blackmoore family curtain and let's just say all is not right in the state of Denmark. I love how Harper has taken us through a real journey in this community. Based on the first book, I never would have been excited for Book 4, which will center on the sketchy ex, aka Nina's brother. But this book really prepared the way for that to be an exciting prospect.
---
I listened to the audiobook version of this book narrated by Carlotta Brentan. I rate audio on a 4 point scale (1 – bad, 2 – ok, 3 – good, 4 – great) and this was a 3 star narration for me.