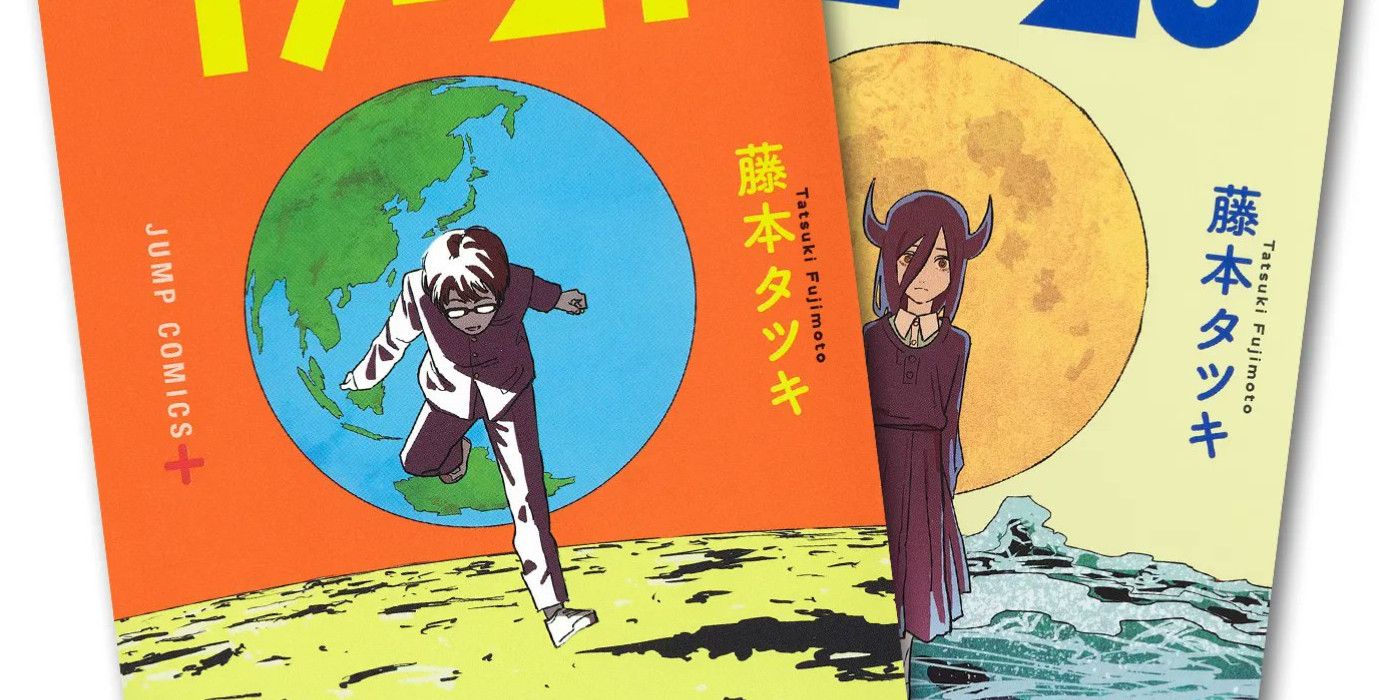 It wasn't until I read all of these one-shots separately that I realized a two volume collection (pictured above) was due out in the US. That probably would've beaten reading fan translations on sketchy free manga sites, which is what I wound up having to resort to. Oh well. Having now read them all, I don't know that I necessarily would be rushing to buy the collection. That's not to say there isn't some quality content here, just that most of it feels like a manga artist desperately trying to find his footing. Though it is intriguing to see echoes of future characters from those series in some of these stories. Now, onto the reviews.
Sasaki Has Stopped the Bullet
This was adorable. Sasaki, our main character, is under the impression that his dead father now lives on the moon, because he was told that as a kid. He believes fully in this knowledge and desires to become an astronaut just to be reunited with his father. Naturally, his classmates ridicule him for believing such a thing. However, it doesn't stop him. He continues to believe not only that, but also that his teacher, the only one to not fancy him crazy, is God. Things continue to escalate, culminating in, well, I think you can guess based on the title. It's a crazy story, but it's one with a sweet message, that there's nothing wrong with believing (well, unless it's directly harmful, like anti-vaxxers…).
Rating: 4/5.
There Were Two Chickens in the Garden
In a world overrun by aliens who eat humans, only two remain… wearing giant chicken heads that fool the dimwitted alien race. It's a rather absurd tale that feels similar in tone to Chainsaw Man, only far more amateurish. It has its charm, don't get me wrong, but it's very slight, and the twist doesn't really work for me. Probably the most forgettable of his one-shots by a large margin.
Rating: 3/5.
Little Sister's Elder Sister
Okay, Fujimoto, what the fresh fuck!? Put succinctly, this is a story about a little sister who paints her older sister naked without her permission (the painting just guesswork, not based off any actual modeling) and then has that painting displayed prominently at school, leaving her older sister mortified. Bud, where did you get such an idea for a story? I was put off from the jump, then came the ending and I was absolutely aghast. Please, Fujimoto, never write something like this again. I honestly haven't the faintest idea what he was thinking with this, or how it got published.
Rating: 1/5.
Siren Rhapsody
There was a kernel of an idea here, I think, but he doesn't seem to know what to do with it. Our main character holds his breath to play an underwater piano, one that normally only mermaids play. His mother, apparently, was one of those mermaids. During one of his performances, he meets another mermaid, thus beginning a Romeo & Juliet style romance. It all just feels slightly off, like more thought should've been put into it. Like he had a set of ideas and didn't take the proper time to make them work together properly. He was still young, though, so I'll give him credit for the effort.
Rating: 2/5.
When I Woke Up I Had "Become a Girl Disease"
This is one of those cases I was talking about where future characters feel like they were being worked out. I'm sure you can guess what the story is about based solely on the title, but he actually has surprising nuance in dealing with the subject matter. While I'm not about to dub him some champion of trans people, or anything close to it, it's a valiant effort on his part. And seeing it here, I now get the sense that it's something he cares more deeply about. In Fire Punch, I thought it was a one-off thing. Turns out I was wrong. Fujimoto's work can seem problematic at times for its portrayals of women, but it's nice to see that he is forward thinking in other ways.
Rating: 4/5.
Nayuta of the Prophecy
Once again, we have a character who feels like the rough draft of a future one. In this case, it's Nayuta, so much like Chainsaw Man's Power. She's prophesied to be the bringer of doom and, as a result, everyone wants her dead… except her older brother who vows to protect her, and tries desperately to understand why she is the way that she is. Because, when your sister is slaughtering animals on the regular, and sports a pair of horns, it's difficult not to wonder if the angry mob is correct. We learn at the end that there's a surprising reason behind her destructive behaviors, and it sort of works, but the story ends feeling underdeveloped.
Rating: 3/5.
Shikaku
Here's another story that feels super similar in tone to Chainsaw Man. Once again, though, he's still working out the kinks. The story follows a female assassin, best in the world supposedly, as she tasked with what turns out to be an impossible hit. Her target requested his own assassination, hoping she, of all people, would be capable of bringing an end to his suffering. He's lived for thousands of years as a vampire and has had enough of life. Although she cannot give him that, what she gives him instead is life. Sorry, I couldn't resist the pun. Something about this vampire absorbs her completely and she sets out to change his mind on this whole dying thing. It's cute-ish, I guess, but I'm sure it would be drastically improved if Chainsaw Man era Fujimoto were to go back and re-do it now.
Rating: 3/5.
Love is Blind
Okay, okay, this one won me over. Does it feel amateurish still? Yes. Do I care? Not really. It's just a good bit of light-hearted silliness. Our main character wishes to profess his love to his friend, only anything and everything is determined to get in the way of that. Literally anything, up to and including an alien invasion. I'm not about to call it peak humor or anything along those lines, but sometimes simple crap makes me chuckle, and this is one of those times. And that's all this is: a set-up for an extended joke. The characters themselves are only roughly sketched out. It's the silliness of the numerous unexpected ways he gets interrupted that kept me laughing and reading. It's stupid, silly fluff, but I like it.
Rating: 4/5.
Just Listen to the Song
Ummm… again, Fujimoto, wut? As in the previous story, we have a tale that begins with a boy wanting to tell a girl he loves her, and again it goes horribly awry. In this case, he records a song for her and uploads it online. Unfortunately, he then becomes the school's favorite whipping boy. Only it's not just that; in addition to the ceaseless mocking, people start to dissect his video after seeing what appears to be a ghost in one frame of it. So this only serves to amplify its presence online and, consequently, his embarrassment. That's… basically it. Just one innocent video spiraling way out of control, going in ways this kid never could've predicted. And it just feels too absurd for me to take seriously or even to wring some laughs out of. I'd hoped the ending would find a way to bring it all home, except it only drives the absurdity further. I can't think of a reason for this story to exist, honestly. It doesn't work as stupid, silly fluff like the last story I talked about, I couldn't really connect with the main character, and it just sort of… ends. It's not as bad as Little Sister's Elder Sister, but it's still in the running.
Rating: 1/5.
Alright, I've officially exhausted all of Fujimoto's work in preparation for more Chainsaw Man, both in comic and anime form. It was… an adventure. He was young and just learning the craft, so I can't be too harsh on him, but this was one hell of a bumpy ride. Maybe I'll own the collection at some point just for the novelty of seeing the bumbling early days of this manga megastar, but it's near the bottom of my priority list. Just give me some more Chainsaw Man already so I can pretend these other stories never happened.