Happy Holidays <or insert your choice of holiday greeting here> from South Louisiana! Coming to you live this holiday season from a street cleared of debris from Hurricane Ida just in time for someone to literally coat their front yard in inflatables and lights. 
I have so many questions: how many extension cords are involved? Do they buy new lights every year or fight the battle to untangle the old ones? More importantly, WHERE DO THEY STORE ALL OF THAT? It's not like we have basements here. But I digress…
Last year, I covered the Christmas Story  found in Luke. That is the one most commonly used in Christmas pageants and the like, or if you ask someone to tell you the Christmas story, it's likely to be an approximation of the one found in Luke. 
This year we're going to take a look at the Christmas story found in the Bible. Specifically Matthew 1 – 2. The other Christmas story.
There's a reason that people use the Luke story. The first 17 verses of Matthew read like an old fashioned begatting from the old Testament. FORTY-TWO generations of fathers and sons listed, as if the mothers and daughters never existed. Which is mighty peculiar since Judaism passes from a mother to her children. That damn patriarchy has been at work erasing women for a mighty long time, y'all – since people actually used words like patriarch. 
There's no decree from Caesar Augustus, no journey to Bethlehem, no manger behind a busy inn, just Mary being unexplainably pregnant and Joseph ready to end their engagement when an angel of the Lord pulls him aside and is like, "Look, bitch. That's God's baby cooking in there. Treat him right and name him Jesus." Joseph agreed and tied the knot with Mary, but they weren't together together until after the baby was born. I can't really blame Joseph on that one. I imagine the Holy Spirit is a tough act to follow. I think I'd probably want to allow a little time for memories to fade, too. 
King Herod starts to hear rumblings of a customer service complaint from a condom maker* running around, one that is supposed to be King of the Jews. It makes him real antsy. Like, really so. 
Three magi, yadda yadda yadda, NO HEAVENLY HOST? WTF AM I SUPPOSED TO DO WITHOUT MY TILDA FIX? That's okay, boo… I gotchu.
At least there aren't any of these fuckers running around. Probably the scariest thing I've ever seen on tv.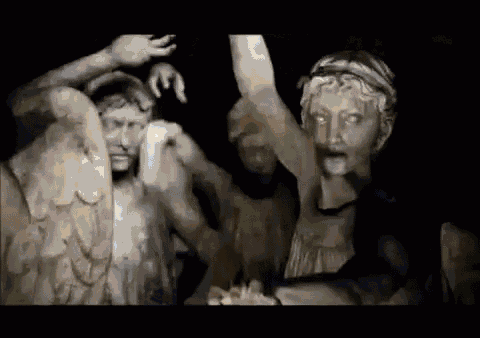 The magi followed that star of wonder to the baby they were searching for. They gave that baby some gifts and some advice: that King Herod is up to some no good, very bad things. Might be a good idea to not be HERE. And at that point the wee family decides to flee Bethlehem for Africa. Probably a good choice.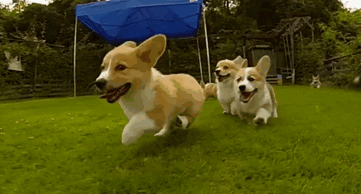 Herod died after many years, but not before he ordered all the boys of a certain age killed. Couldn't risk the alternative. When Joseph got word of Herod's death, he realized Herod's son was in power. Worried that the son might have the same ideas as dear old dad, Joseph took his family, left Africa, and settled at Nazareth in Galilee. Which is how Jesus became a Nazarene.
Thus endeth the Christmas story that features the patriarchy and hurt man feelings instead of the mother, the baby, or the miracle of birth. 
(*Full disclosure: I got that bit off of a TikTok. It was too good not to use…