While technically a romance, ONE TO WATCH by Kate Staymon-London is really more of a satire based on reality dating shows. I mean, that's not necessarily a bad thing, just that I found the actual romance of the story to be the least interesting thing about it.
Bea Schumacher is a plus-sized beauty and fashion blogger. One night after having way too many shots, she goes off on a rant about popular reality dating show Main Squeeze, specifically as it relates to the lack of size diversity in the female contestants. When she wakes up hungover the next morning she finds her website and social media blowing up.
Main Squeeze has been struggling in the ratings after several seasons of stagnation. Its brand new executive producer, Lauren, has the grand idea to make the show interesting again by featuring Bea as the titular Main Squeeze. After some convincing and reassurances from Lauren that she won't look like a fool, Bea decides to go through with it.
To me, one of the most interesting things about this book is the way the story is told through a combination of traditional narrative, text messages, social media posts, slack office pools, etc. These are between Bea and her family and friends, random fans of the show, and Bea and the guy she has not so secretly loved from afar for the last ten years, Ray. Ray quickly proves that he is not worthy of her love and devotion.
ONE TO WATCH does an excellent job of portraying the difficulties of trying to date while fat. Believe you me, Fatphobia is alive and well in America. It's not so great about making the male contestants more than a series of very convenient plot devices or tropes.
As for diversity, there are two secondary characters that I'd like to take a minute to mention. One of the male contestants competing for Bea's affections is Wyatt. Wyatt makes some big realizations about himself, most importantly that he is asexual. That is a bit of a shocker in  Romance world, when one of the main contenders removes themselves from the game. The other is the young son of single dad Asher. Asher's son is gender non-conforming and a total charmer.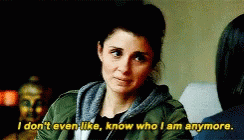 Anyway, I felt like the things that happened while filming the show were pretty predictable, but some of that may just be because I've read several curvy girl romances lately and the female leads all have pretty much the same baggage. We don't really get to know the male leads well because there are so many of them to start with and the author relies on pop culture shorthand to a great extent to differentiate between them.
Don't get me wrong, the book is fine and mostly enjoyable, but I don't think it's worth the hype, and I really don't think it's worth the $13 I paid for it on Kindle. Three out of five stars.