Our discussion has begun! Please visit the discussion post to chime in.
We will also be talking on our Social Media platforms, and of course in our Facebook group, Cannonball Read Book Chat, we'll have some additional prompts so please join us there as well. Remember, you don't have to be registered for CBR11 to speak your mind – feel free to invite a friend along!
Hello Cannonballers near and far! The summer is just flying by, and it is getting close to our #Cannonbookclub discussion day! On Friday and Saturday, August 16 and 17, we'll be meeting up here and in the Facebook group to talk about the very first Sherlock Holmes novel, A Study in Scarlet.
Holmes and Watson seem so ubiquitous in literary and pop culture. Everyone has some impression about the great detective and his sidekick. The hat, the pipe, the great mind… But the question is, as always, is have you read the book?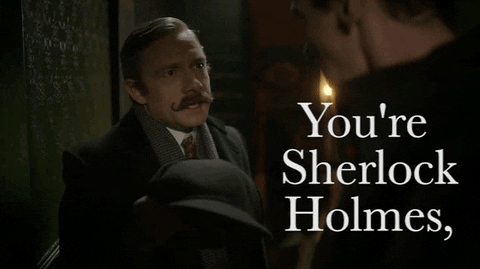 Well now we have our chance. This is a pretty slim volume so it should be quick to get through. My library's tiny hardcover copy comes in at only 131 pages. Not only that, you can read it for free. Gutenberg.org has a copy you can download in Kindle, EPUB and plain text versions; you don't have to spend one thin dime. So I hope that based on all of that, we can get a great amount of participation in our chat in two weeks.
To help you get ready to chime in, here are some questions to think about as you're reading:
What were some of your preconceived notions about Sherlock Holmes before reading this book? Did the book bear them out?
What is the sine qua non of the character Sherlock Holmes as he appears in A Study in Scarlet (ASIS)? What essentially marks the character as being the Sherlock we've all come to know?
What about Watson's character traits? How would you describe "Watson-ness" in ASIS?
Given Sherlock's eccentricity, and Stamford's declaration that "Holmes is a little too scientific for my tastes — it approaches to cold-bloodedness", why are Watson and Sherlock able to get along so well?
In ASIS, Doyle seems to suggest that Sherlock suffers from depression and/or has something like bipolar disorder. What do you think was Doyle's point in having Sherlock deal with a problem of this nature?
What types of social/cultural/class issues does ASIS raise intentionally? Unintentionally? Anything that surprised or shocked you?
Following this discussion, read any adaptation of a Sherlock Holmes novel and join us on September 20-21 to discuss your selection. (That's right – we'll all be reading different books!) Here is a place to start looking for adaptations and retellings:
A Study in Honor by Claire O'Dell
Mrs. Sherlock Holmes by Brad Ricca
A Study in Scarlet Women by Sherry Thomas
Any book in the Mary Russell series by Laurie R. King
Any book in the Lock & Mori series by Heather W. Petty
Mycroft Holmes by Kareem Abdul-Jabbar and Anna Waterhouse
Or any other Sherlock Holmes-esque book
So read up and think about what you'd like to say about The Great Detective in a couple of weeks. And take a look at our album of A Study in Scarlet book covers on Facebook. We've got a bunch, from the first edition, to the 1887 Beeton's Annual, not to mention translations into Hebrew, Spanish, Malayalam, and more. What cover does is your edition sporting? Share it on social media and tag us @cannonballread. Happy Reading!