I first witnessed the glory that is James Acaster on an episode of Would I Lie to You where he recounted the, now infamous, cabbage tale. I watched that episode twice. Then I googled the man and watched pretty much everything on YouTube, including obscure clips from before anyone knew who he was.
What I'm trying to say is that I was very much the target audience for this book and my review is in no way objective, but based purely on the fact that James Acaster is in fact the greatest man currently alive. I mean this is the opening line of his book:
"When I was a baby I urinated into my own mouth."
James Acaster's scrapes evolved from a radio show with Josh Widdicombe, so if you've listened loads to that you'll recognize a lot of the tales. However I would argue that Acaster's stories all bear repeating. I've watched his netflix special, repertoire, so many times that it's what I put on when I need something familiar and soothing (James Acaster's voice sounds like he has a permanent bubble in his throat and I love it). It's fun to listen to the stories from his real life and identify the pieces that he included and twisted to fit into his wonderful stand-up universe.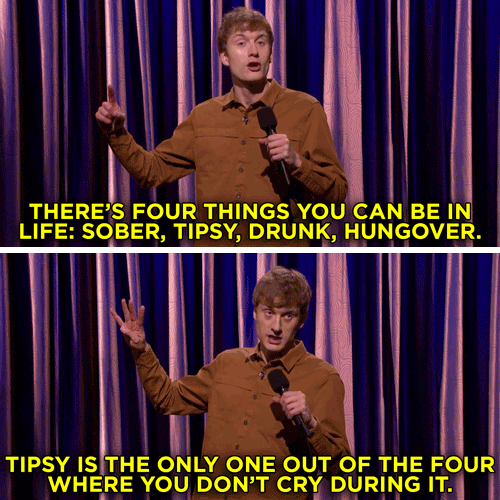 Acaster is a skilled storyteller who makes his life seem ridiculous. His scrapes often seem like something that can't actually have happened, but it did. I listened to this book on audio and I recommend that, James Acaster's accent sounds like he's always constantly about to say the letter f, and I love it.
I honestly can't tell you how much of this book is actually hilarious anecdotes and how much of it is just the amazing tone and rhythm that Acaster employs. You can definitely tell he used to be a musician in the way he uses beats and pauses in his delivery. So if these quotes seem a bit….just listen to the audio version.
I'm no a scientist, but if I was I'd be the sort of scientist who sits in a bush wearing a red dress
Finally, James Acaster is just so genuinely kind. I work at Eureka! A children's museum in England and as I was walking to work one day James Acaster said loudly in my ear "Chapter three: Eureka!". And because I work at a place called Eureka! I'm quite used to hearing the word, being reminded about work before figuring out what the exclamation is referring to, kinda like someone else calling your name and you turn, but they were just shouting at their kid. Anyway. The chapter was about Eureka! My Eureka! Because kid-acaster gets in scrapes too <3 And he could have said that Eureka was a terrible place that crushes children's hopes and dreams. Instead he said it's a fun day out for kids of all ages and yeah he's right and I love James Acaster and he might kinda have bribed me to, but he bribed me with kindness and that's allowed.
"Failure cannot be understood in theory only in practise…sometimes over and over and over again
This book is perfect for people who like British thing, quirky humour, and long tales about cabbages.
CBRBingo: Braincandy. Because James Acaster is joyous.