I had planned on reading all the Immortals After Dark books by Kresley Cole in order. But when I noticed Sweet Ruin was a standalone book, I skipped ahead to Book 16. This romantic tale didn't start with a battle or instant attraction. Instead, we meet our heroine, Josephine (Jo for short), a homeless teen taking care of her baby brother, Thaddeus, in Texas. They hide out in the local public library during the day living off the kindness of the librarian. The foster system failed them. One home assignment ended with Jo burning down the house out of revenge for the foster dad hitting on her. Jo pickpockets to help them survive on their terms. She's a spitfire who doesn't take shit from anyone.
[SPOILER AND NSFW LANGUAGE ALERT]
Unfortunately, she pisses off the wrong gang leader who shoots her in the head. Miraculously, she wakes up in the morgue still alive with no clue how she survived. At first she believes, she is a ghost and seeks revenge on her murderers. During the attack she realizes she has a literal taste for blood and super strength…just like a vampire!
She attempts to reunite with her brother at the librarian's home who decided to adopt him. Sadly, they reel away from her new vampiric ghostly form. Thus, she is forced to abandon Thaddeus to a better life than she can provide.
Fast forward 14 years, she lives a solitary life in New Orleans looking for other Immortals who could teach her who/what she is. She keeps tabs on Thaddeus through internet articles, but doesn't dare visit him again. He's a good student and living a great life, so she stays away. She becomes Lady Shady, the protector of the local prostitutes. Attacking violent johns and bad pimps while living out of a dingy motel. She wanders the city observing others living but with not much life of her own. One night, she comes across Rune the bane blood sleeping with a gaggle of nymphs in a garden. Curious, she watches from afar with her gift of invisibility. Rune is totally disinterested in these women which Jo finds weird. He is a demon fairy hybrid cursed with poisonous blood. Thus, he is not allow to kiss, sleeps with women only to gain information. If he does, he could kill them instantly. Takes all the romance out of the act for him. He also has to use some sort of magical condom rune spell.
As this is in the Immortals After Dark universe, characters from previous books do make an appearance. But the main story is about Jo and Rune's unlikely courtship. As fate would have it, Jo is immune to Rune's poisonous blood. She actually craves it. She's been living off bagged blood ever since her night of revenge so many years ago. They are both shocked when her bite turns them both on during a fight. Rune can't believe it's possible, since his whole life he's been objectified for his ethereal fairy good looks while also shunned for his murderous demon blood. He's been used by fairy queens, but now serves a interdimensional god named Orion, leader of the Møriør. It's the Ascension. A Highlander-esque battle of immortal factions that happens every 500 years. During this period, unusual creatures come out of hiding.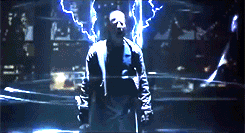 Nix, a crazy Valkyrie, is Rune's assassination target. But Nix has somehow captured Thaddeus, Jo's long lost brother. Rune and Jo must work together to rescue him while sparks fly between them.
I really loved this entry into the Immortals After Dark series. It was an interesting pairing of two supernatural hybrids. Neither character quite understood where they came from – Jo was found with her brother in her arms with no memories. Rune was taken from him mother as he was bastard son of a fairy king. His cruel wife enslaved Rune and groomed him to be her sex assassin. The two lonely characters have their guards up and assume the other is manipulating the other. In truth, they are amateurs both in love and Jo about most supernatural beings. While plotting against Nix, they fall in love and begin to look at the world in a whole new light, especially Jo who is new to the supernatural realm. If you're a sucker for fated ADULT romances, this is the book for you! There's quite a few sexy times in this one, but that's not unusual for this Kresley Cole series. I did the audiobook, which was narrated by a great male voice actor who did a fantastic Scottish accent for Rune and an ok drawl for Jo.
Read reviews from previous Cannonball Reads on my blog.