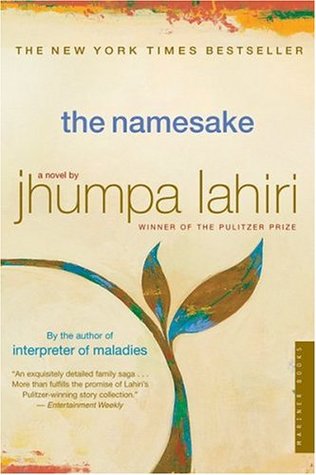 This was a really beautiful story. I would highly recommend listening to the audio version if you can. The narrator's accent was amazing. I could have listened to it all day.
"In so many ways, his family's life feels like a string of accidents, unforeseen, unintended, one incident begetting another…They were things for which it was impossible to prepare but which one spent a lifetime looking back at, trying to accept, interpret, comprehend. Things that should never have happened, that seemed out of place and wrong, these were what prevailed, what endured, in the end."
This story follows Ashoke and Ashima Ganguli, an Indian couple who move to America after their arranged marriage in the nineteen-sixties. They named their first son Gogol, after a Russian author Ashoke credits with having saved his life. The Namesake follows this family through several decades, as they adjust to American life and come to terms with how their heritage it mixes in with this new world. Gogol and his sister grow up as American teenagers but always feel slightly separated from their peers. The book is told primarily from Ashoke, Ashima and Gogol's perspectives. It's very peaceful book, with amazing insights into a culture that I know little about. It won a lot of awards and I can absolutely see why.