I have a lady crush on Sue Perkins. I do not feel that this is an unheard of situation. I was introduced to her via
Ale, who was watching the series Supersizers Go/Supersizers Eat from the BBC2 all about food history (it is available on Hulu and YouTube… offf you go). We LOVE food history. This lead to my comfort television becoming watching Sue and Giles drink their way through terrible food.
The next great epoch in my Sue fandom was a late to the game discovery of the Great British Bake Off and Sue's cohosting with her comedy partner Mel Giedroyc. I no longer watch many foodie television programs, I struggle with my weight and overeating and have learned over the years that watching someone cook/eat will inevitably lead to me cooking and eating an extra meal or an extra quantity of food that I do not need. Due to those reasons, I had initially avoided this incredibly popular juggernaut. And then someone sold it really hard, promised that it was more soothing than food porn and I gave in.
Just in time to get addicted before the hammer fell, Mel and Sue announced they would not be following the series to its new home.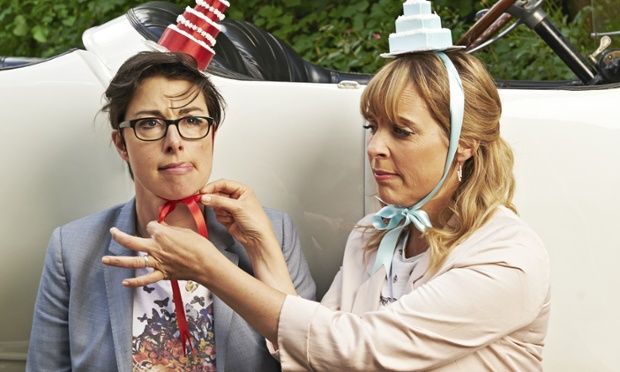 In solidarity with Sue, I tracked down her book and purchased it. Her standing up for what she believed in meant that I would absolutely throw a few dollars her way.
And then Ale read it first. Because I'm a slacker.
So, we've gotten over 200 words into this review and I haven't said much about the book. Its really good friends, in the way that well written and thought out memoirs can be. I don't know if its very Sue-ness would come across to the uninitiated, but if you are a Sue fan and are looking for more stories of her growing up in Croydon, or attending Cambridge, or breaking into the comedy/television presenter world then this is your book. She's insightful and honest about her own strengths and weaknesses and you will absolutely fall in love with her parents. She uses her wit and comedic skills to unpack the world around her, and the way she sees it, and asks you to do the same with the world around you. Or just think of some really great double entendres.
Sue is very candid, and her emotions are allowed to shine through which I feel is the strength of the memoir genre. I nearly cried at the end of one of the chapters about her relationship with Mel. "But mainly we leave it alone, leave it all unsaid and carry on regardless in a thoroughly British fashion. What I do know is that this kinship will always remain. It is constant. It is a love that cannot be weathered, not by time, not by circumstance. Nothing can alter it."