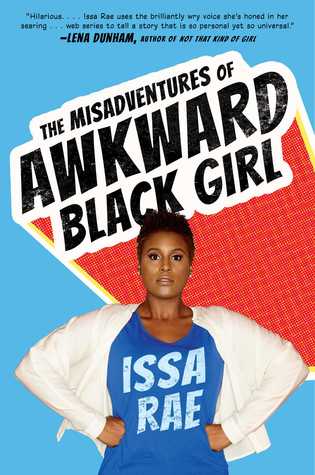 Okay so I had no idea who Issa Rae was before starting this book, but I saw it on Overdrive as part of the Women's History Month collection and absolutely loved the cover, so here we are! I'm glad I picked it up because it was really funny and well written and I'm glad to know who she is now.
"Girls, New Girl, 2 Broke Girls. What do they all have in common? The universal gender classification, "girl," is white. In all three of these successful series, a default girl (or two) is implied and she is white. That is the norm and that is what is acceptable. Anything else is niche."
Issa Rae apparently has an extremely popular YouTube channel. On it she discusses exactly what the cover states: her life as an awkward black girl. The book is a combination of essays about her childhood and young adulthood, and a guide to being an awkward black girl. As an awkward white girl, I was able to relate. I really love the stories about her family and childhood. The cyber-sexing story was hysterically disturbing. She talks about a lot of serious subjects as well, including weight issues, the racism and sexism she has experienced and witnessed, and how she's learned to love herself.