Yet another post-apocalyptic novel set in the not too distant future. I know. It's like every fifth book written these days is set during the end of humanity. I suppose that says something about the fatalism of America in a post 9/11, post-truth world. But this isn't the Walking Dead. There isn't a zombie in sight, in fact. The Dog Stars is more The Thin Red Line meets The Road. It's a somber reflection of the end of the world, at times haunting and told in a lyrical but sparse prose. If you were to bottle the essence of a Terrence Malick and infuse it into the poetic musings of the last man on earth, I think it would feel a lot like this.
Set largely at and around an airplane hangar in Colorado, The Dog Stars tells the story of two men, Hig and Bangley, and a dog all trying to eek out a survival nine years after a virulent flu wiped out humanity. The earth is dying. Dying from neglect. Dying from climate change finally left to wreck havoc on a broken planet. Hig and Bangley have formed a kind of union, and turned their small airport into a refuge. Bangley is the survivor. He's practical. No nonsense. He grimly and methodically kills any and all intruders, and is both aghast and confounded by Hig's reticence to murder. Hig, the narrator, was a poet, and is a dreamer. He enjoys hunting and fishing, but can't stomach the kill. He is a man out of place in this bleak existence, and without Bangley's support and guidance, it's not hard to imagine that he wouldn't last long. But Hig provides valuable reconnaissance, as he's a pilot. He flies his Cessna along the perimeter, patrolling for threats that Bangley can coldly dispatch. The two have formed a symbiosis that seems odd, but is effective. Both men need each other, though they are worlds apart.
One day, while flying his Cessna, Hig makes brief contact with another pilot. This contact is a seed of hope. Hope that the world isn't quite dead. Hope that there's something beyond mere survival. Hope that there is a chance for more human contact than Bangley can provide. This hope both drives the story, and acts as a catalyst for the trouble Hig gets into.
…
This is not a wacky adventure. It's not really an adventure, at all. It's a somber reflection of one man's place in a world to which he scarcely belongs. There are long periods where nothing happens. Hig's flying his plane. Or fishing. Or lying in a hammock making constellations of the stars. But it isn't uninteresting, either. Heller's writing is beautiful – not quite as bare as Cormac McCarthy's, but similarly skeletal. And, though the world is grim, and some of the characters are cold, the world is vibrant and beautifully pictured, and there is humor to be found here. I can honestly say that I was captivated by the narrative. It was easy to disappear in this book; to get lost in the bleak emptiness of a world made smaller by the characters' isolation, but also made larger by the terrain returning to a state of natural, though anemic, splendor. And, I think, the book is affirmational. This isn't The Road, which sees two characters held just above despair by their mutual reliance on and affection for one another. The reality of the world in The Road exists wholly within the love between a father and child. The reality of the world in The Dog Stars is an emptiness needing to be filled by the bonds of newly discovered human interaction. That difference is both unsubtle and important.
In short, I loved this book. It was quiet, and warm, and aspirational. But it was never heavy-handed. Though I'm not a fan of the paucity of punctuation (I haven't been able to read anything by McCarthy apart from The Road), or the aforementioned lyrical film making of Terrence Malick, I found this to be refreshing in a meditative sense.
….
I feel compelled to speak a little about post-apocalyptic fiction. My biggest qualm with this book really had nothing to do with the book itself – but everything to do with this genre: the depravity of mankind in our time of need. The belief that as the world falls apart, people turn against one another, often to the point that the world after the apocalypse is worse than the apocalypse itself. There's a level of cynicism here that I find deeply distasteful – despite my fascination with these kinds of stories. This cynicism is why I gave up on the Walking Dead, and it's why I think so much of this genre is terrible.
People simply don't behave this way during or after disasters.
Look at any disaster – any of them – and you'll see people running towards danger.
And not just the people paid to put themselves in harm's way. Normal people reaching out to help others is a surprisingly easy thing to find in a terrible situation.

No matter how terrible the disease…
No matter how wide the impact….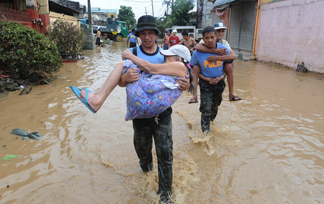 No matter how inflamed passions can get…
People come together in their time of need. That's what we do. That's how we've broken free from our ancestral plains in East Africa, spread across the globe, built civilizations to reach across time and space, and manipulated the world to our benefit. We aren't perfect, but we are communal, and the steady march of progress has been moving in a generally forward direction for over 10,000 years.
This notion that we turn on one another when things get hard simply isn't supported by reality.
---
Reviewed 5 times for CBR, with an average rating of 4.00 (including one 1 star review).