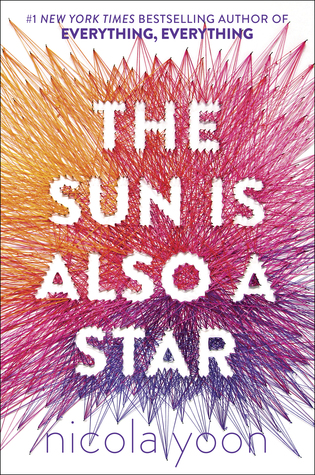 I loved Nicola Yoon's Everything, Everything (coming soon to a theater near you!). I wasn't quite as drawn into this one, but still greatly enjoyed it and I feel like Yoon ended it perfectly.
"There's a Japanese phrase that I like: koi no yokan. It doesn't mean love at first sight. It's closer to love at second sight. It's the feeling when you meet someone that you're going to fall in love with them. Maybe you don't love them right away, but it's inevitable that you will."
Taking place over the course of one day in New York City, with brief flashbacks from different characters' perspectives, this book tells the story of Daniel (a Korean-American student with an pre-interview for Yale) and Natasha (a Jamaican immigrant fighting imminent deportation). They meet by chance, before either goes to their very important meeting, and spend the day mostly together. Daniel falls for Natasha at once, while she remains more reserved (due partly to her deportation, and partly to her own nature).
I felt like their characters were a little broadly drawn — the heartsick believer in romance vs. the girl who loves science and facts. But Yoon gives them deep backgrounds for such a brief story, and I love how she ended the book.