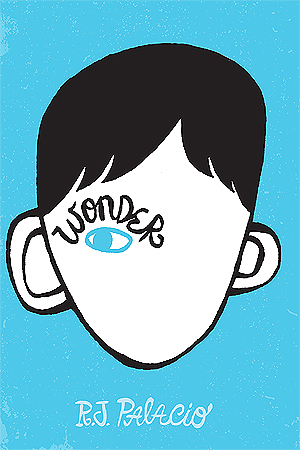 So this book is probably skewed towards middle schoolers more than the typical teenagers I think of when I think of YA. But I also think it should be required reading for just about anyone. It's a wonderful story and could teach just about anyone how to respect other people a little bit better.
"Kinder than is necessary. Because it's not enough to be kind. One should be kinder than needed."
Auggie Pullman is about to start 5th grade at a brand new school, and finally has the opportunity to live like any other kid — except for the fact that he was born with facial deformities that greatly alter his looks. It's something he's lived with for 10 years, and he's mostly able to ignore people's reactions, but obviously it still gets to him sometimes. This book alternates views between Auggie, his parents, his sister and a couple of other characters. We see him try to make friends, deal with bullies and do his best to live his life. It's heartbreaking at times but his attitude impressed and amazed me throughout the whole story. This book is on a lot of list for Young Reader awards and absolutely deserves it.