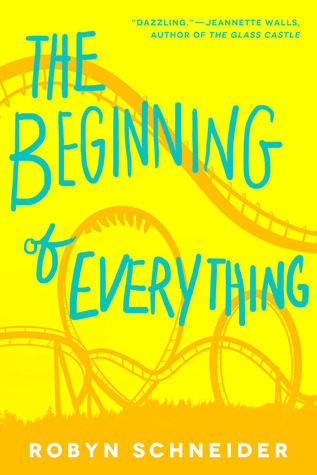 I downloaded The Beginning of Everything pretty much immediately after finishing Schneider's Extraordinary Measures. About 3 chapters in, reading the banter between Ezra and his former best friend, I thought to myself: yeah, I'm going to like this one, too.
Ezra Faulkner has played tennis since he could walk, sits at the popular kids table at school and dates a cheerleader. He coasts by on his grades and gets away with a lot — including attending drunken parties with his friends. Then about two weeks before the end of junior year, after having a fight with his girlfriend, he pulls his car out into the street and gets plowed into by an SUV. He breaks his knee and wrist, and spends the summer in physical therapy. When senior year starts in the fall, he can no longer play tennis, and his friends have abandoned him. So he starts hanging out with old friends, friends he ditched when he got popular, and meets a new girl named Cassidy.
"Life is the tragedy,' she said bitterly. 'You know how they categorize Shakespeare's plays, right? If it ends with a wedding, it's a comedy. And if it ends with a funeral, it's a tragedy. So we're all living tragedies, because we all end the same way, and it isn't with a goddamn wedding."
The Beginning of Everything follows a similar plot line to Schneider's other novel — and a lot of YA novels, tbh — in which Ezra makes a group of unlikely friends, falls for the new girl (who has a secret!) and learns about himself. But I really liked his friends — more so than Ezra and Cassidy, really — and their goofy debate team antics cracked me up. They reminded me of Logan Huntzberger's Life and Death Brigade, but (a little) less pretentious. Certainly less spoiled. Cassidy herself gets pretty obnoxious, with her poetry recitations and random interjections of foreign language. But in Ezra's eyes, she's charming, and eventually I came to like her as well. And just as I started to like her, she pulls some bullshit moves that only girls in romcoms get away with, and the last part of the novel sort of fizzled out for me. I didn't hate the ending, but it definitely didn't live up to the first 2/3rds of the novel.
Oh, and the dog gets killed by coyotes FYI.