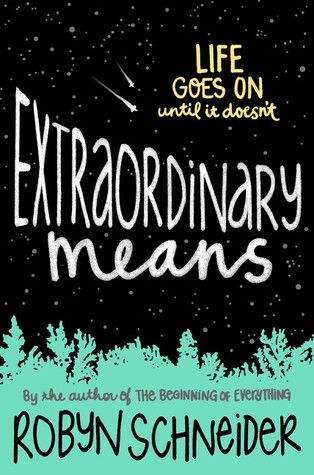 Extraordinary Means starts out as just the story of a boy and a girl meeting again at boarding school — 17 year old overachiever Lane, and a girl named Sadie that he vaguely remembers from summer camp years ago. But we quickly learn that what appears to be a boarding facility is actually a sanitarium, and Lane and Sadie (along with dozens of other teens) have been quarantined here due to their incurable strain of tuberculosis.
"Everything of who I was and who I wanted to be had been evicted to make room for this disease."
Of course, Sadie hates Lane at first (for something he didn't do), and they scuffle a bit as Lane settles in as the new guy. But the YA romance tropes get quickly overturned as they fall in love for the short time that they have in the sanitarium. The hope for each sequestered kid is that their TB will become inactive, and they'll get to go home. They undergo constant check ups and testing, hoping that they'll be released. Meanwhile, they try to live their lives.
Extraordinary Means has a lot of storylines going on, and most of them work pretty well since they're centered on each of the students/patients. It gets a little sappy at times, what with the dying teenagers, but there's a good balance with humor as well. A totally drug-resistant strain of TB, as depicted in the novel, doesn't actually exist…or not yet, anyway…but it's an excellent means of creating a background and tension for the story. I really liked Schneider's writing — her subjects seem very real — and I've already downloaded another one of her YA novels.