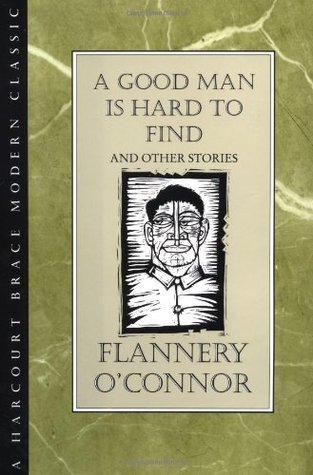 I pulled this up on Goodreads in preparation to write my review, I saw that Narfna had said (back in 09): "Four stars for talent, three stars for enjoyment." That's pretty much spot on. Beyond A Good Man is Hard to Find, which I liked in high school and liked 12 (gulp) years later upon rereading, most of these short stories are pretty miserable. But that doesn't detract from how obviously talented O'Connor was, and what a shame it is that she died so very young.
"She would've been a good woman," said The Misfit, "if it had been somebody there to shoot her every minute of her life."
That's the punchline to A Good Man is Hard to Find, which stills cracks me up — even if I feel bad every time for laughing. Seriously, go read it if you haven't already. Most of the other stories (I listed them all below) have similar themes: shitty people doing shitty things to other shitty people. Very little levity in the bunch, though. The second story, The River, downright horrified me. Also, it's kind of hard to see past the signs of O'Connor's times in the stories — by which I mean the rampant racism.
1. A Good Man Is Hard to Find
2. The River
3. The Life You Save May Be Your Own
4. A Stroke of Good Fortune
5. A Temple of the Holy Ghost
6. The Artificial N*****
7. A Circle in the Fire
8. A Late Encounter with the Enemy
9. Good Country People
10. The Displaced Person