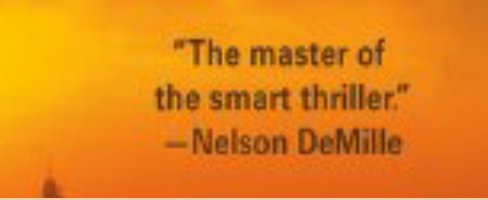 This review is for the auidobook versions of the Jack McClure series by Eric Van Lustbader. It's also really long, I'm sorry. There are five books in the series, which begins with First Daughter.
Jack McClure, an agent with the ATF, always felt like an outsider because of his dyslexia until he learned that it gave him the ability to see the world in a way most people don't. He used this side effect to help him in investigations, which he saw as puzzles. His work caused rifts with his family, both his wife and college aged daughter, Emma. While preparing for a raid, Jack received a call from his daughter asking for help. He put her off and before he could get back to her she died in a car accident. The death of his daughter was the last straw for his marriage, and his wife moved out.
Emma's best friend and roommate was Alli Carson, daughter of the President Elect. Just weeks before the inauguration, Allie is kidnapped from her dorm, so her father calls in Jack McClure to handle things. Jack worked tirelessly to find the First Daughter, seeing clues no one else can. The other agents involved seemed certain it was the Missionary Secularists, a group calling for greater separation of church and state, that were behind the kidnapping. Jack doesn't think that makes sense, so he keeps digging to see what he can find. The story is interspersed with flashbacks to Jack's teenage years, and the death of his guardian, which leads him to the real culprit.
This all sounds fine, as far as reviews go, but that's just because I haven't listed any of the problems yet. First, dyslexia doesn't give you superpowers. You don't see things in a 3D way others can't when your mind transposes letters and numbers. Second, why would an ATF agent be called in to investigate a kidnapping? Third, I don't understand why the story of his childhood was important. It doesn't fit until at the very end the kidnapper is a government assassin that he had encountered before. Did we need the added revenge angle? Wouldn't the kidnapping of the First Daughter, the best friend of his deceased daughter even, be enough to make a federal agent take things seriously? Fourth, the Manchurian Candidate style ending is so far-fetched that I actually laughed while listening to it.
Unfortunately, the first book is the best of the lot. Here's how it gets out of control.
(SPOILERS FOR THE REST OF THE SERIES FOLLOW)
The second title is Last Snow. We begin with Jack somehow a Special Advisor and most trusted friend of President Carson. They all fly to Moscow to work out an agreement with the Russians. While there, the President learns that a US Senator on a fact finding mission in Ukraine has been found dead in Capri, and sends Jack to find out what it is. Between receiving his assignment and getting on the plane, Jack gets tangled up with a Russian agent, and kills a member of the mob. To protect her, he decides to take her with him, but when they get to the plane, Alli Carson is waiting for him and refuses to go back to Moscow without him, so he takes her along too. Why the Secret Service allows this is a good question that the author doesn't answer. They traipse all over Eastern Europe, getting false papers in a day, meeting with mysterious men known only as Uncle, and…
Wait, I forgot a big thing from the first book. Dead daughter Emma "appears" to both Jack and Alli when they are near a death. This continues through the rest of the series. Right, ok. Back to the second instalment.
… a really bad dude that has ties to the mob and the Russian government, and happens to be Annika's (that's the FSB agent) sexually abusive father. There are decoy dead bodies, a secret coterie of oligarchs determined to keep Ukranian uranium out of the hands of the Russians, and also the First Daughter. Oh! And a crooked four star general? And previous Cabinet members involved in shady businesses connected to the uranium alliance? No one's alliances stay the same. You never know who is bad and who is less bad. In the end Uncle (who turns out to be Annika's grandfather?) has somehow orchestrated most of it (and owns the shady business!) bringing big bad dad face to face with his killer daughter. It ends as expected, with a dead bad guy and the treaty signed. But then not really. In the last few pages, while the President and First Lady are on their way out of Moscow, the limo hits black ice, spins out, and they all die. Luckily Jack and Alli were going to take a different car, and Jack and Annika were telling each other they loved each other. How or why they loved each other is a mystery that will last for three more volumes.
Book the Third is called Blood Trust. Allie has had a rough year. She lost her best friend (and we find out, lover) and both her parents. Good thing she has Jack McClure! He helps her get into the Fearington Institute, a "secret" (I think) school that feeds graduates to government agencies like the FBI and CIA. Her roommate (who it turns out is her evil billionaire lobbyist uncle's secret illegitimate daughter) is poisoned, the school goes on lockdown, and then a mutilated body is found in the woods. Somehow Allie is immediately the first and only suspect, because she had been dating the victim. Jack to the rescue! He springs her, and they chase down an Albanian human trafficker. Of course, Annika shows up in DC because she is chasing the same trafficker because she has some nebulous connection to one of his victims. Somehow the Secretary of Homeland Security gets involved, and a teenage boy who is working for the trafficking ring undercover for Annika's grandfather. The Secret Service agents watching over Alli get drawn into the investigation of Billy's murder, as do a couple of Metro detectives. Alli's uncle is trying to find a runaway daughter who left when she was only thirteen years old, about ten years before.
There is a tie between the new president and Alli's uncle, which is shady at best, criminal at worst. There are hitmen posing as policemen, a Chinese restaurant above a slave auction, and of course Jack's super-duper-problem solving skills. We meet Alli's missing cousin, who is a super-hacker working for a mysterious terrorist known only as The Syrian, and somehow involved with the trafficking.
And now, a couple of things in the third book that didn't make sense. Why is the Secretary of Homeland Security involved in a military operation on foreign soil? How is Alli Carson so fast and strong, and yet still look like a sixteen year old girl? How do so many of these people speak Russian? What's up with Annika's grandfather being involved in everything? Why did McMillan Audio choose a reader that can't pronounce any Russian names and sounds like Boris and Natasha when he tries to do the accents? I don't know the answers, and none have been provided.
Now the fourth is where things really fall apart. Here's a recap of Annika's timeline: When she meets Jack she is 28. 10 months elapse between the second and third books. The fourth begins almost immediately after, so she's probably 29. When she was 4, her father killed her mother's husband and kidnapped Annika. She says the abuse started when she was 12, lasted for years, and that her grandfather rescued her so she owes him her life. In Father Night, we learn that Annika has twin half-brothers. One of them is mad at her because her grandfather used their mother to distract their father and take Annika away. This resulted in their birth and their mother being trapped in a relationship with a madman. This brother has also dated Caroline Carson (the missing cousin), who is at least 23. Here's the math problem: If Annika is 29 and her brothers are dating 23 year olds and being sent on spying missions, there is at most 9 years between them, but if the timeline is correct, the brothers can be no more than 14 years old. IT DOESN'T ADD UP.
Ahem, the rest of the story now. Someone has made a website with photoshopped images of Allie's face on a naked woman's body tied to the chair in the room where her kidnapper (who, by the way, went by the name of Ronnie Kray) kept her. She freaks out (understandably) and asks her new best friend (the poisoned roommate who is secretly her cousin) for help tracking down the creep. Vera (the secret cousin) asks her sister (missing Caroline cousin) for help. The guy turns out to be Reggie Herr, and also the twin brother of her kidnapper, who's real name was Morgan Herr. He's working for a shady dude with some kind of connection to a black ops team and the whole thing is a confusing mess of changing alliances, and Annika's grandfather messing up the entire world for unknown reasons.
At this point in my listening I started tweeting phrases from the book that illustrate the bad writing. They are all here:
@sarah_jwh "he had hands like a marmoset, small and neat"

— Sararah Rocher 🍫 (@sarah_jwh) September 10, 2016
Turns out the bad guy in this one (Father Night) is secretly Mengele's son and is obsessed with Twins and also heading up Acacia, the black ops mission everyone is trying to cover up. There's more kidnapping, killing, torture, F bombs, ridiculous fight scenes, the most disgusting sex description you can imagine ("slick with their mixed secretions") and a mysterious hit and run accident that may or may not be the Syrian's fault. In the end, Mini-Mengele fails, Caroline reveals Vera's secret, Jack gets dumped by Annika in Rome (she goes off with The Syrian, who turns out to be Iranian?), Grandpa Uncle is dead, and so is his girlfriend and one of the half-brothers. No one knows what Grandpa Uncle's master plan is, or who is on what side.
You might expect the final book, Beloved Enemy, to wrap up all these questions, but no. A couple of years go by. Alli is working for Interpol, Caroline is hacking in Paris, the Metro Cops from earlier are solving murders, the Secretary of National Security is murdered in his home, Annika is still with The Syrian, and Jack is in DC suspected of killing his friend. But of course Jack didn't kill this one guy! So he heads to Bangkok, looking for the informant the dead Mr. Paull had recently interviewed, thinking he might hold the answers. Back home, various agency leaders are fighting over who gets to handle the case. An assistant to the Director of the CIA, Jonatha, suspects Jack isn't the killer, and is looking for a mole. Jack, meanwhile, has traveled to Switzerland, where he runs into, you guessed it! Annika and The Syrian, who have left Rome and stopped in Greece to let her insane and brain-injured husband out of the institution he's been in for several years. Roland (the husband) is kind of a monster and just goes around killing people.
Jack stops in at a plastic surgeon, looking for the informant. After being told he's staying at an exclusive hotel, he goes to the hotel spa. Rather than finding the informant (whose mother "had the limbs of a swimmer, the face of a goddess, and the heart of a lion. She was a modern day griffin") he's drugged and locked in a tanning bed, which is my favorite thing in the entire series. He starts to wake up, realizes he's been drugged and uses his special mind and body control to metabolize the drug faster and wake up before his eyes are burned beyond saving. (!) He gets out and then Annika's brother (the one that didn't die in book 4) helps him get to the informant's dad's house, now that the informant is dead (did I forget to tell you about that? He got shot in an elevator, I think), but first they have to outrun the Syrian and Annika. More bad guys come and shoot Ronimil (the brother) and then somehow Jack and Annika have sex up against a concrete bunker in the Alps. This sex scene has the gem" He shifted against her, not wanting to let go of the animal stickiness glueing them together" Gag.
Eventually everyone gets to the chalet, and Jack finds, wait for it, Nazi treasure! Stolen works of art! But then he leaves it behind. In the end everyone that isn't Jack or Annika end up dead, and we still never find out Grandpa Uncle's plan.
The whole thing seems pointless. Like he made it up as he went along, rather than starting with and outline. The ending to the series has no resolution. There's no character development, apart from Jack going from nice guy to Jack Bauer threatening to cut off a surgeon's fingers. Nothing is consistent. I don't think I'll even remember most of this next week. I just keep thinking, the Ludlum estate let this guy write the Bourne novels?
I think you can guess that I don't recommend these unless you want to look for ridiculous descriptions of things. "Hands like a marmoset" will be with me for a long time.