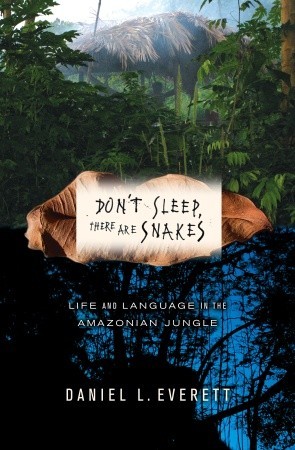 Daniel Everett first began to live among the Pirahã people of the Amazon in 1977, when he and his family were sent on behalf of the Summer Institute of Linguistics to study the Pirahã's language in order to translate the Bible and convert them to Christianity. He ended up learning not only their language, but gathered insights about their way of life that eventually led to his renunciation of Christianity and 20 years living among this primitive tribe.
"They have no craving for truth as a transcendental reality. Indeed, the concept has no place in their values. Truth to the Pirahã is catching a fish, rowing a canoe, laughing with your children, loving your brother, dying of malaria. Does this make them more primitive? Many anthropologists have suggested so, which is why they are so concerned about finding out the Pirahã notions about God, the world, and creation."
There are two basic components to this book: the customs of the Pirahãs, and the study of their linguistics. Both fascinated me, even though linguistics can get pretty complicated and dry. Everett does a wonderful job describing not only how the Pirahã went about doing things, but why. The conclusions he draws about how their culture impacts their language, perspective and experience are very interesting. For instance, he comes to believe that the Pirahã live only in the present, explaining their total lack of ability and/or willingness to plan ahead.
The experiences he puts his family (he has 3 small children when they first make the move — the youngest is 2) through in the name of converting a bunch of people who couldn't care less about Christianity made me uncomfortable, especially when his wife and daughter almost die within the first few months of their life among the Pirahã. But the lessons they all draw from their time with the Pirahã seems mostly positive, and his account makes for a great read.