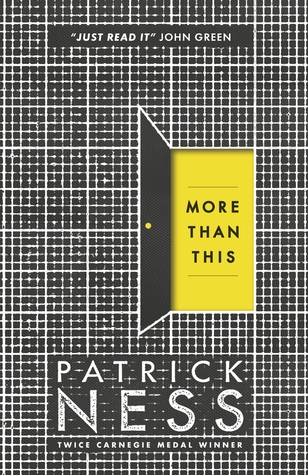 I assumed Patrick Ness had written many, many YA books (because he's really good at it) but I am so sad to find out that I'm terribly wrong — this is the last of his published works that I hadn't read, and I've now read it. So cry a little tear for me.
"You said we all want there to be more than this! Well, there's always more than this. There's always something you don't know."
More Than This is one of those books where the main character and the reader know nothing at the beginning, and find the pieces of the story together throughout the course of the novel. As those pieces are revealed, his perspective (and the reader's) change abruptly, over and over. Some of the revelations frustrated me, some made me very sad or angry — but all of them affected my view of the book and the narrator. It's hard to give too much of a plot summary without over-revealing, but basically: Seth Wearing wakes up after nearly-drowning…or maybe not so nearly. He's in his old hometown, near his old house — where his family lived before something really terrible happened to them. As he explores this place (which he pretty much assumes is hell), he tries to put together where he is — and more importantly, WHY.
Like the other Ness books I've read, this is well-written, gripping YA featuring really interesting, well-formed characters. I had trouble accepting some of the turns it made, but I'm glad I stuck with it because he really makes things work in a meta-way that I will stop talking about now for fear of spoilers.. Go read it.