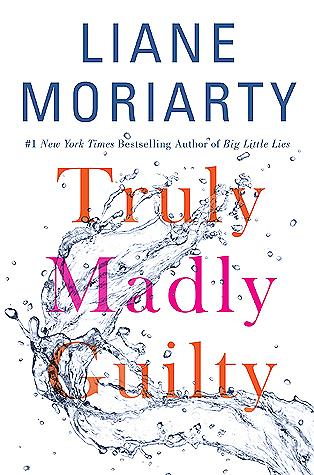 So I've read a lot of Liane Moriarty books. In fact, I've read all the Liane Moriarty books. And here's how they go: there's a group of people (women, or women and their husbands), something happens prior to the beginning of the novel, we don't really know what that thing was, but it's affecting everyone in different ways. Moriarty will spend the course of the novel dropping little hints, until the big explosive reveal (which is always something I thought I had figured out but never actually do), after which she wraps things up, and you look at the clock to realize it's 2am and you read 600 pages in one night (Big Little Lies, I'm looking at you). Usually this works magnificently, sometimes not so much (ahem…The Hypnotist's Love Story) — but I always look forward to her new releases because she rarely disappoints.
Truly Madly Guilty has three couples at its center: Sam & Clementine (married, two little girls); Erika & Sam (married; no kids) and Vid & Tiffany (married, one daughter–Dakota). They have a backyard barbecue at Vid and Tiffany's, something happens, and then the book starts two months later. We alternate between all six peoples' (seven, actually, Dakota has her own POV a few times) perspectives and alternate between the day of the barbecue and present day as Moriarty lets us piece together the events of that day (Caitlin_D, this will make you crazy…)
Moriarty follows her normal formula at first, but swerves wildly about two thirds of the way through. No joke, the last 100 pages of the book had me fighting back tears, and unable to put it down. It also jumped my rating from 4 stars firmly into 5. Moriarty drops the big reveal halfway through, and then just does not let up — secret after secret gets revealed, and each broke my heart more than the last. It's definitely a consume-it-in-one-night book, and completely lived up to my expectations.