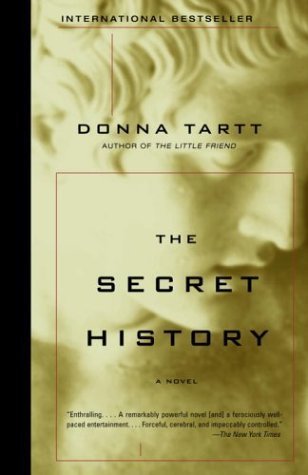 My main complaint about the other Donna Tartt book that I recently read — The Goldfinch — boiled down to it simply being too long. The Secret History is similarly long, and dense, and full of rambling descriptions and actions, but I found the story and the characters so much more compelling here.
"Does such a thing as 'the fatal flaw,' that showy dark crack running down the middle of a life, exist outside literature? I used to think it didn't. Now I think it does. And I think that mine is this: a morbid longing for the picturesque at all costs."
The book starts with a death: Bunny Corcoran, discovered under a pile of snow at the bottom of a ravine. The narrator — Richard — makes it pretty clear that he and his group of friends had something to do with it. Then we backtrack to the beginning of the semester, and discover the whole story.
Set in a small college in Vermont, The Secret History focuses on a group of students who all study exclusively with one professor — Julian Morrow, who teaches primarily Greek. Bunny, Frances, Henry, Charles and Camilla have all studied with Julian for a few years — Richard joins up when he transfers to the college at the beginning of the semester. The relationships between the students are fraught with lies and secrets, attractions and resentments. I loved watching the interaction between various people or groupings. The whole book has a very tense feeling to it — you know something (or many things) are happening, but we only get a glimpse from Richard's perspective of all of these inner workings.