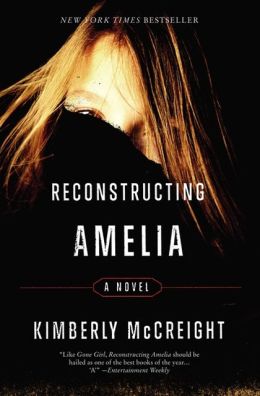 Amelia didn't jump. This is the text message Kate receives after her daughter Amelia allegedly jumps off the school roof. This prompts Kate to look further into Amelia's death beyond agonizing about what more she could have done as a single parent working a bazillion hours a week as a lawyer. Amelia was a fifteen-year-old star student accused of plagiarizing an English paper, which the police attribute as the motive for suicide. As Kate investigates more, suicide becomes more and more unlikely.
The story is told from Kate's point of view after Amelia's death, Amelia's point of view in the months before her death, and occasionally Kate's point of view from before her daughter is born. Amelia's story is the most engaging, as she gets chosen to join a super secret high school society and has to undergo Mean Girls-like hazing. McCreight uses social media and text messages as part of her storytelling for Amelia, which is intermittent enough to be effective.
Kate's chapters were less interesting with indulgent passages reflecting back on her relationship with Amelia. She questions the quality of her parenting, as a single mother who frequently comes home after her daughter has gone to bed, but always has bonding time they have on Fridays and Sundays. Don't worry, from Amelia's point of view, we are reassured that despite feeling lonely sometimes, Amelia doesn't resent her mother and even empathizes with her, in that way that all fifteen-year-old girls do.
This book has been compared to Gone Girl, but is nowhere near as engaging, suspenseful or original. The author gives enough clues to the ending that even though I didn't predict everything, I was never surprised by it and mostly underwhelmed. Overall, it's a decent enough mystery story but forgettable and interchangeable with most other clichéd high school drama stories.