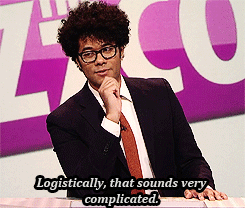 If you are familiar with Richard Ayoade's acting (or, as he would say, 'acting') from
The IT Crowd
,
Apple & Onion
, or
The Mighty Boosh
, you just might hear his distinctive voice and cadence in your head as you read every line of
Ayoade on Ayoade
.
The book, ostensibly an artist "in conversation with himself" as he "reflects on his cinematic legacy" is a collection of Ayoade being weird with and to and about himself, in front of readers, in different prose forms. There are "interviews." There are "shooting scripts." There are "essays" in "collections" including questions for discussion and pages intentionally left blank for the reader's notes. There are copious appendices.
The first huge chunk of it is written as a transcript of one Ayoade interviewing another Ayoade, thus:
Ayoade: Can you describe to me what you were like as a baby?

Ayoade: Yes, I can.

Ayoade: Will you describe to me what you were like as a baby?

Ayoade: Yes.

There is quite a long pause.

Ayoade: When?


Ayoade: I was about to, but you interrupted me.

A pause of at least seven minutes —

Ayoade: Er …

Ayoade: Can I speak?
… and …
Ayoade: Why would Tim Burton be reading this? He's an incredibly successful and busy person. And this is going to be massively niche. And not in a Tim Burton niche way — which is also really popular. Are you crying?

Ayoade: No. I have hay fever. Can we stop now?

Ayoade: It's November.

Ayoade: I'd like to stop now. I just want to rock on this horse for a while.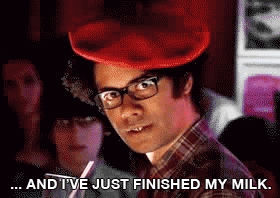 It's very funny — not surprising given the source — but it's also experimental and weird. The Ayoades fight and make up and one runs away and one becomes convinced he's pregnant — a straightforward comedian memoir this is not.
Besides the "interviews," which check off the box of asking questions about Ayoade's childhood and career, even though we rarely get remotely reality-related answers, there are supplementary essays on writing and acting that also bear only a tenuous relationship to (a) their own titles (b) the concept of essays as a form.
The whole thing is strange and ambitious and internally inconsistent yet uniformly charming … I super recommend it.
Also this motivated me to figure out how to embed gifs in my reviews! Now that I know I'll probably never do it again. Only for you, Richard, only for you.