Please note that I received this book via NetGalley. This did not affect my rating or review. 
Geez, I don't even know what to say. Am really focusing on not spoiling things, though the book synopsis did that, but I edited below so potential readers are not. I think the cover promised a book packed with love and mystery and to me that meant more Gothic in nature. Unfortunately, that is not what I ended up with. The actual mystery was not very mysterious I thought. And I think that the author in the end let one of the characters we follow through this off the hook a bit too much. The flow between the two timelines did not work and the stories in both dragged forever. The way things tied up in the end just felt off to me too.
"The Secrets of Summer House" has us following two distinct timelines/women. In 1976, University Library, undergraduate Alice Kenzie has a straight up "meet-cute" with Tristan Somers. They fall in love, they get married, but something happens that ends up with Alice's daughter, Olivia, being left at Summer House. In 2018, Olivia Somers is dealing with the fact that her beloved grandmother has just died. Olivia is dealing with her husband being away in America. When she finds photos in her grandmother's study showing her parents' wedding, she realizes that her grandmother has hidden something from her, and then starts to investigate what happened to her mother/father decades earlier.
Alice and Tristan I really wanted to love. But there felt like so much stuff that was unsaid in those sections. We get hints and there via other characters in the Olivia sections what that was, but I really wish that it had been spelled out more. I always feel like people named Tristan are not long for this world. I don't think I have read about one in a book that had a happy ending. And now I am thinking about Legends of the Fall.
I digress.
Back to the book. At least Alice's sections the characters were more developed. I got to see Mary, Henry, Stella, and everyone else and you get their points of view a lot more in those sections.
Olivia's chapters felt flat. I don't know why she felt so estranged from her husband. It felt like she kept making mountains out of molehills. I thought we were going to get some things about an affair or something, but nope. She just didn't tell him something. And Olivia's husband seemed to just be there to bring her cups of tea. I was more interested in Olivia's best friend Tash than her unraveling her parents (not so mysterious) past.
The writing was solid (hence the 3) but the flow was awful. I felt myself getting restless while I was reading. I really wanted to ask is this it when I getting to the meat of the story (at around the 65 percent mark). And then when you get the revelations I felt let down and just aggravated.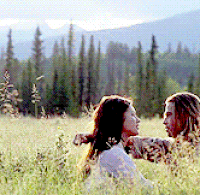 And back to the book again.
The setting of Summer House should have been played up more. I mean the house is the title of the book. It sounded very decrepit in the Olivia sections and stifling and hot in the Alice sections. If you play up a house in a book I think either Gothic mystery novel or haunted house a la Shirley Jackson. This was neither.
The ending just wrapped things up too neatly. I needed more.