I'm still deep into the Immortals After Dark series. I absolutely breezed through the four books featuring the brothers Wroth. Bless Robert Petkoff and his gripping narration. I really feel like all these characters are distinct when listening. The Wroths are from Eastern Europe. They were turned vampires during a deadly war. Each brother broods in his own way. Untouchable, which is part of the anthology Deep Kiss of Winter, is the seventh book that focuses on Murdoch Wroth. He seems to be the most dependable brother and always ready to support. That is before he meets Daniela the Ice Maiden. In previous books, Murdoch briefly alludes to a secret lover but wouldn't divulge any details. Not even his immortal brothers knew where or why he was sneaking away.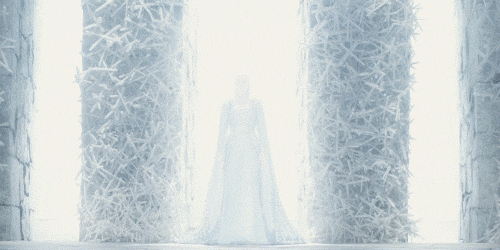 The book opens with Danii hunted by deadly ice fey and gets away with help from Murdoch. Like all Kresley Cole's books, they are fated to be together. One little problem, Danii's skin is so cold that it burns anyone who isn't her kind. Despite the pain, Murdoch dunks her in a bathtub of ice to save her life. He is soon enamored with her, but she makes him promise to never tell anyone about her. She decides to hide out in his Siberian fortress of solitude esque mansion. It's a paradise compared to the humidity of New Orleans where her Valkyrie sisters live. Danii is the rightful heir to the Ice Fey realm's throne. Her Queen mother was betrayed during a coup and Danii has been on the run dodging assassins ever since. The couple steals a few kisses here and there, but her freezing body won't let them properly get it on. They spend much of the book looking for a solution. But eventually, Danii's past catches up with them and raises the stakes for the romance. This is a love story about soul searching and figuring out what you're willing to sacrifice for love.
The ending was a bit predictable, but I still enjoyed the steamy ride. As it's part of an anthology, the book moved at a swift pace to bring these two together. Danii was an interesting heroine who was trying to find her way with her dual heritage. She wasn't as much as a femme fatale like the other Valkyries. She leaned on her wits, speed, and cold hands to stay alive. The story doesn't jump around as much. It's laser-focused on the chemistry between the lovers. I would recommend this to paranormal romance fans who like reading fey and vampire stories. The icy setting makes this a great winter read. And if you're looking for a new series, it's a low investment read, but rarely boring.
Read more of my writing on my blog.