Chaos Burning is the second Bound by Magick novel by Lauren Dane. I LOVED the first book, Hearts of Darkness, and hunted down the entire series. This go-round, we meet a new witch named Lark Jaansen. She has been kicking ass and taking names in Los Angeles. After the dangerous attack in the first book, Lark arrives in Seattle to teach these witches how to fight dirty. Just in time for a big bad of apocalyptic proportions to show up. It likes to devour Others aka supernatural beings. It doesn't discriminate and manipulates magic hungry mages and broken witches into kidnapping people. All the races – Vampires, Witches, the Fae, Lycans – will have to team up if they are to have any chance of survival.
The end of the world looms, but that doesn't mean love (or lust) is off the table. Simon Leviathan co-owns the bar with Dominic. He was one of my favorite characters from the first novel. I was pleased to see he was the love interest here. He is a Lycan, an extra-powerful werewolf from a magical realm.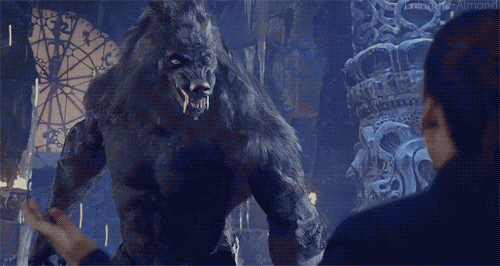 He is also royalty but he doesn't let it go to his head (mostly). Simon doesn't quite know what to make of the feisty and bright-haired Lark with her punk get-up. Lark recognizes that Simon is a tall, dark drink of handsome, but brushes off their attraction. They appear as opposites on the surface. However, they soon discover they have a lot in common. Their first kiss definitely packs some heat! Simon is not shy about telling Lark he wants her, which is very wolfy alpha behavior. He is overprotective of Lark who reminds him that she is the clan's enforcer. She is never gonna be sitting on the sidelines.
I enjoyed Lark and Simon's romantic dance in the midst of chaos. My favorite thing about paranormal romances is the combination of fantasy, action, and passion. Dane deftly weaves in magic mythology to raise the stakes. These are passionate beings with strong desires and that fight fiercely for the ones they love. I absolutely loved Lark from page one. She brings much-needed positive energy and spontaneity to the Seattle clan. I admired her journey in this book. She radiated both strength and vulnerability. Anyone who can tame a Lycan is definitely entertaining. You could read it as a standalone, but I would recommend starting from the beginning. If you're a fan of The Hollows series by Kim Harrison, Ilona Andrews' novels, or True Blood, you should read this series.
Read more of my musings on my blog, Confessions of Pop Culture Addict.