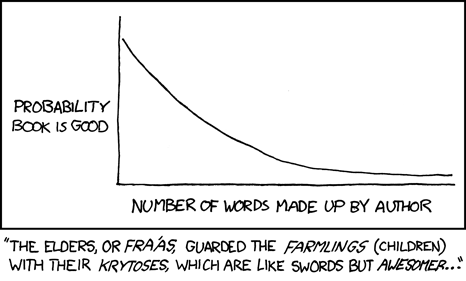 I will gorydamn post this comic every time I read a book that conspicuously changes language to show that we're not in Kansas anymore. I get it. Distant future. Mars. Different classes differentiate themselves by the way they speak. Read you loud and clear.  I need you to not with the slang. It's so frustrating, because there was a lot about this book I enjoyed, but the slang was just one of the affectations of the book that became distracting. The Roman gods, the Roman names, the color caste system… it just ended up being A LOT. After a while it became difficult to keep the characters straight.
The book also takes a hard left turn about midway through. Darrow is a "Red" miner on Mars who lives under the thumb of the "Golds," the ruling class, and whose wife Eo is executed for pushing back against the social order, and Darrow himself comes close. (Cool, a lot for the first fifty pages of a book, but ok, we can hit the ground running). Darrow is then recruited into a rebellion against the Golds, transforming him into one through a painful "carving" process so he can take them down from the inside. (All right, still with you.) He goes to the academy where the young Golds are molded into the leaders they will become, often brutally. (interesting!). And then the various houses they belong to are put into an artificial war supervised by proctors and the heads of the houses are named for Roman gods who interfere or not as they choose, and Brown spends the considerable rest of the book on this war game. (ZZzzzzzzzzz.)
The characters are indistinguishable from one another because a) there are so many of them. b) we don't get a sense of what unites or divides them, it seems arbitrary, c) so many Roman names for the sake of theme, and d) they basically exist to be chess pieces. Aside from two or three, they are GeneriGold designed to show off the system's brutality, and BOY HOWDY am I over rape as a means of doing so. Our hero is GOOD and KIND because of how he treats women who are BRUTALIZED by the SYSTEM but man is that lazy writing. And how come it's never men who are raped? Nope, despite the whole leaning hard into Roman tropes, homosexuality is conspicuously absent (there's one male "Pink" – the sex worker class – who figures into the story but again, where we're trying to show brutality, only the women are hurt in this particular way. Hm.)
I bought the whole series because one of my most intersectional feminist friends loves it, and I'll keep reading, but WOOF what a rough start.