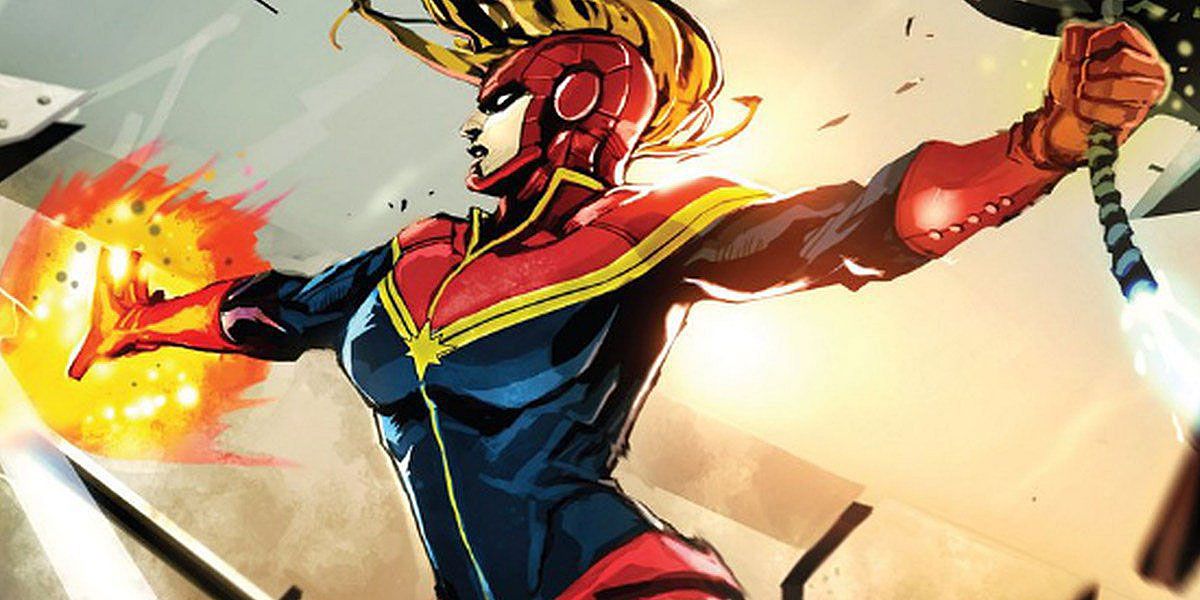 I've been waiting for the Captain Marvel movie since 2012! I read the first few volumes for a MOOC called "Gender Issues in Comics" which was presented on Canva by Christy Blanch. It was a wonderful course which jumpstarted my interest in superhero comics (particularly female superhero comics).  And I completely got why Captain Marvel/Carol Danvers changed the game for female comics readers.  So in anticipation of the new movie, I avoided all casting reveals and spoilers and revisited the first 3.5 volumes of the collected editions of DeConnick's run on the series: Earth's Mightiest Hero.  Full confession though: I stopped partway through the fourth volume because it started getting into a run I knew had zero to do with the movie, and HAVE YOU SEEN MY TBR PILE, I AM A LIBRARIAN SEND HELP.
It's hard to summarize this long a run, but essentially we see Carol Danvers life after her origin story and ahem, colorful history as Ms. Marvel.
The first arc deals with Carol taking on Mar-Vell's "Captain" handle instead of the "Ms. Marvel" name she had been known by, and cheekily references her new uniform. (Her previous two uniforms were a nonsensical trapeze suit and a horrifying sexy gymnast outfit, in that order).
Next up is a fun exploration of her friendship with her pilot hero Helen Cobb and her time-traveling airplane. It's my favorite arc of the series for sure, mostly because it covers the history of the Mercury 13 women.
Third is a story where Carol is threatened by Kree villain Yon-Rogg who's seeking revenge, and Carol is forced to ground herself when her flying superpower creates a lesion in her brain. Another favorite of the arcs.
Then we get into an Avengers plot concerning a genocidal species of alien, leading to Carol's adventures in Deep Space as a rep of the Galactic Alliance. This includes a run-in with the Guardians of the Galaxy, saving threatened planets and alien races, and the many hijinks of her cat Chewie, who I unabashedly announce is my favorite character (and who fan favorite Goose is based on in the new film)
The last part of this stretch is called Captain Marvel and the Carol Corp, where Carol is leading a band of kickass ladies protecting the world. I skipped it cuz I own the first volume of that specific series already and I needed a break. But I look forward to reading it!
I recommend this comic book to literally everyone. DeConnick writes a wonderfully multi-dimensional hero.  Carol is flawed but heroic, sardonic, definitely needs therapy, stubborn (willful, really), but kind and fiercely loyal.  She is never objectified by her many artists in this long run, but manages to have some lovely romantic moments with a fellow Avenger.  The romance is spare though, which is a good thing. Mostly it concentrates on her female friendships, which are plentiful and rich. ALL of the women are written well, and I particularly love her conflict with Monica Rambeau, as well as her friendship with Jessica Drew/Spider-Woman.
I even love the various art styles, which doesn't often happen — but the debut artwork by Dexter Soy is my favorite (with a shoutout to Terry and Rachel Dodson in Avengers Assemble as a close second).
ALSO CHEWIE THE CAT IS AMAZING. Yes, she's named after that Chewie. Carol's a Star Wars nerd.
Plus if you read it and love it and watch the movie and love it and shout that love to the world, you'll make the sad male haters sadder and isn't that the cherry on top?
Turns out I barely needed to revisit the comics because the movie barely referenced them, at least in regards to plot. Most importantly though, the writers and Brie Larson completely captured Carol's character — AND GOOSE THE CAT WAS AMAZING, so I forgave the plot changes and loved the movie. What they changed made sense for the MCU, and we can only hope we get at least two more movies (one where we get more of her Air Force buddies and one where we get her deep-space adventures).