When we decided to read A Wrinkle in Time for our #CannonBookClub, I was ecstatic! Perfect motivation to re-read it before the Ava Du'Vernay's film release. Before its release, there seemed to be some negative buzz that disheartened me. I felt like I was defending the movie and the book to an extent before it hit the theaters! In the end, I managed to complete my re-read the morning before seeing the film. The refresh with the original text rekindled my childlike curiosity and sense of wonder.
BEWARE OF SPOILERS FOR THE BOOK AND THE FILM BELOW!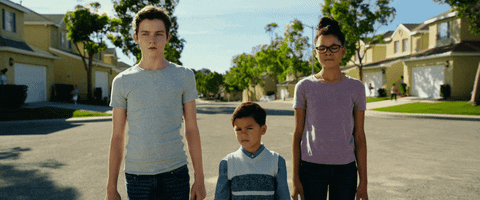 A Wrinkle in Time is the first book in the Time Quintet series introducing us to The Murrys. Meg is our protagonist who doesn't fit in at school. Her peculiar and brilliantly smart brother, Charles Wallace, has yet to start school and essentially her only friend. Her twin siblings, Dennys and Sandy, don't understand why Meg has to be so stubborn and disagreeable at school. They easily know how to fit in and not make trouble. Meg has never been the same since her scientist father disappeared. Her mother remains optimistic for his return, but the whole town thinks he ran off with another woman. Instead of ignoring gossip, Meg would rather be defensive with her teacher about it. Not atypical for a teen girl! During a stormy night, Meg can't sleep and goes downstairs to find her brother waiting for her. As if he had a psychic hint she'd come, he prepared her a sandwich. Her mother follows soon after to find a mysterious old woman knocking on the door. It's Mrs. Whatsit dropping cryptic hints about Mr. Murry and tesseracts. As abruptly as the strange woman arrives, she runs back into the night.
Charles Wallace takes this as a sign to drag Meg along with Calvin, one of her classmates, to meet Mrs. Who. She speaks in literary quotes to inspire them all. And quicker than I remembered, chapter three ends with them folding into space with the Mrs's to search for Mr. Murry. The children end up on planet Uriel where they see so many fantastical sights and creatures. The journey to other worlds was always my favorite part of the book. On another planet they are taken to The Medium. Another encounter to prepare them to battle the IT and rescue Meg's father.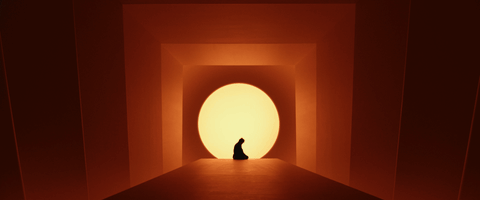 Eventually, they make their way to the heart of the evil darkness, a planet called Camazotz. In this sterile place, everyone must conform or be sent to Central Intelligence to be reprogrammed. Even though the big bad has been ephemeral thus far, L'Engle deftly introduces stand-ins all controlled by the uber evil IT. Meg isn't quite ready for everything that happens. It takes the kidnapping of her brother to grow up. Before she had a single-minded goal: to find her father. She didn't quite think about what would happen next and ends up weakened by The Black Thing. With the help of Aunt Beast and the Mrs's she returns to Camazotz to rescue her brother on her own terms.
Back in March, I had a blast watching the film at the El Capitan Theater.They decorated the theater with animatronic books and planets. Before the film, they screened a music video with in-theater confetti bombs followed by an introduction from the director. I was jazzed to say the least to watch that film. Afterwards, they invited you to a costume exhibition in the basement. The costumes and production design were a great achievement. The pacing seemed rushed for the film, but fairly it's quite rushed in the book as well. I wish they had included more of Aunt Beast, but the Mrs's and The Medium more than made up for it. Even if you were not a fan of the book, I'd say you'd probably enjoy the film. It's not required reading to understand the film. The adaptation of an allegedly un-adaptable book did decent box office, although I would have hoped for more positive reviews. Nevertheless, it is nowhere near the predicted box office bomb for a $100M production.
If you love contemporary YA fantasy, this book might seem light on action. However, if you're a fan of C.S. Lewis or fantasy allegories, this is a must-read.
Read more of my reviews on my tumblr, Confessions of a Pop Culture Addict.