*Note: This review was completed in 2017 before the author's views towards our trans siblings began to be widely known.  My reading experience was what it was and these reviews will remain up, but it should be noted that I find her TERF values abhorrent, which have only become more clear over time, and her doubling down in Summer 2020 has made the decision to walk away from her as a creative force the only acceptable choice for me. I will no longer be supporting her through further purchases of new works, readings, or reviews and am committed to continuing to read more works by transgender and non-binary writers. 
Friends, I finally remembered what initially began the itch to reread Harry Potter. Our very own narfna, along with some cannonball and not cannonball friends, did a Medicinal Re-Read and I remember following along (thanks, Goodreads)! It's been since 2013! Okay, as you were, let's get to the actual reviewing.
I have always thought book four, Goblet of Fire was my least favorite Potter, and that may still be true for the book versions (we'll have to see when I get there in a few weeks), but I was resoundingly underwhelmed this go-round with The Chamber of Secrets and the movie left much to be desired.
Chamber of Secrets follows the same basic trajectory of its predecessor. First, Harry has trouble with the Dursleys, then he gets to school with some trouble (much bigger trouble this time), something strange is happening at Hogwarts (blood on the walls and petrified people and ghosts), Harry along with Ron and Hermione are in a unique position to solve the strange happening, Quidditch, House Cup.
Tada!
This is not the book's weakness, really. It is how these pieces come together and how Rowling uses Ginny Weasley as a blank slate that bothered me. I forgot how little of her own character Ginny gets in these first two books and how very little in this book considering she has such a major role in the work of the big bad. I am looking forward to badass Ginny who gets here in later books.
The Chamber of Secrets, for all of my vague disgruntledness, is a story about abilities versus choices, which Dumbledore makes clear in the end. This is an important lesson for all of us. I think the movie adaptation misses the point (and I am glad that we are done with Christopher Columbus adaptations after this) by focusing on the violence of the basilisk. Book Harry is more concerned with the possibility that he should have been Slytherin, and that he could go bad. We are with him through these mental gymnastics and there are few among us who haven't looked back and thought did I make the wrong choice? Did I use my influence (asking the sorting hat to make us Gryffindor) in the wrong way? Is it all doomed to come apart? Harry is nervous, and scared, when Ron points out that it's not good even in the wizarding world to hear voices (which is a line that the movies gave to Hermione… just grrr. Ron deserves his moments of ability.)
However, layered onto that is a moral lesson in how we interact with others. I prefer the
book's version of the Weasley/ Malfoy feud, since not only is more fleshed out but it informs the larger story in a more concrete way. While the diary plot plays out in the movie as it does in the book, we get much less of the tension between these two wizarding families, and that is a shame. Rowling is setting up her larger theme with them; on one side, we have the Weasleys who are an open, loving, and inquisitive bunch. Highly loyal and believe in fairness. On the other side are the Malfoys, who are not those things.   As this is a children's book, Rowling takes the themes that she would explore in any book (and certainly does later in her other adult novels) and breaks them into pieces her younger readers can understand.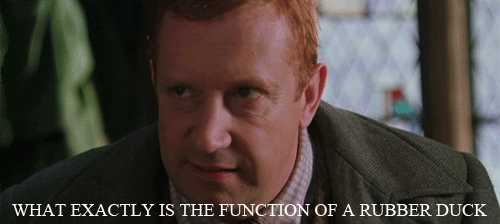 In order to do that, she introduces the ways these characters treat people who are not exactly like them. Draco Malfoy's use of the Mudblood epithet and Ron Weasley's reaction to it, so much stronger in the book, are perhaps the linchpin between these two worldviews. It also informs the danger of the Chamber of Secrets and the Heir of Slytherin, and shows its readers that every little bit of prejudice can support a larger evil.  This is not to say that Rowling makes the Weasleys perfect. Fred and George join in on
the teasing of Harry about being the Heir of Slytherin even though it hurts him, and could support others views of him as a possible suspect. Don't get me wrong, I love the twins, and was very sad to see so much of their arc hit the cutting room floor in the adaptation, but it is another important lesson to the reader: even those we trust and love the most can hurt and betray us and if that is you, it is important to make it right and apologize.
Once again knowledge, and asking for help when you need it, are crucial to solving the great dilemma. I was struck by the way Gilderoy Lockhart is framed as a know nothing, and how he is the weakest of the wizards present because he does not invest in actually knowing what to do. Through these methods Rowling creates the third of our baddies, in addition to Tom Riddle and Lucius Malfoy. When I read this book the first time I was finishing up a grueling program, and headed off to college. I was affected then as I am now that knowledge can be your best armor against the forces of darkness.
This book is full of future world building, from Hagrid's trip to Azkaban (sob!) and the introduction of Cornelius Fudge. The work Rowling put in shows. I'll be embarking on The Prisoner of Azkaban shortly.
"But why's she got to go to the library?"
"Because that's what Hermione does," said Ron, shrugging. "When in doubt, go to the library."
(P.S. I've saved all things Dobby for later).
My re-read started at the beginning with The Sorcerer's Stone and continues with The Prisoner of Azkaban.