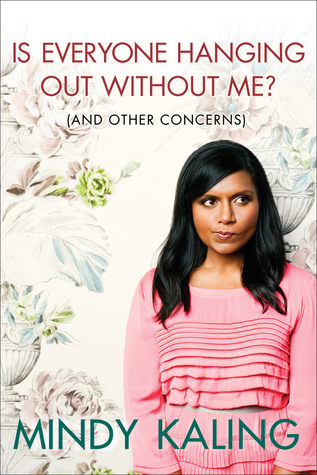 I believe I reviewed this for CBR5, but it's been a while, and I didn't listen to the audiobook last time, so here we are again.
"I'm only marginally qualified to be giving advice at all. My body mass index is certainly not ideal, I frequently use my debit card to buy things that cost less than three dollars because I never have cash on me, and my bedroom is so untidy it looks like vandals ransacked the Anthropologie Sale section. I'm kind of a mess."
As Mindy points out in her intro, Is Everyone Hanging Out Without Me? (And Other Concerns) is not Bossypants — but then again, so few books are. Instead, it's a very funny book about a slightly chubby Indian girl with a major obsession with comedy. This book covers her early years, her time in college and her career as Kelly Kapoor/staff writer for The Office. A lot of it is comprised of essays, while other sections are basically listicles. The audio version was great — Mike Schurr comes on to read an obit for Mindy that might have been the funniest thing in the whole book (sorry, Mindy, I know it's your book). And her real voice, which does not hit quite the same frantic high pitch as Kelly Kapoor's, adds even more warmth and humor. Don't read it expecting real life advice, but definitely read it for a few good laughs.