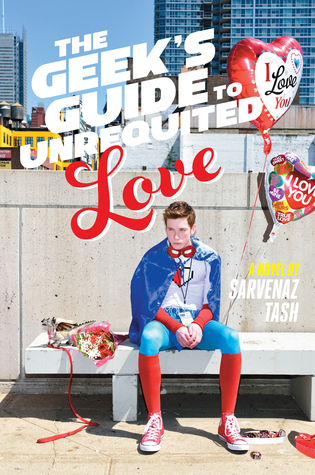 I'd be interested to see if Sarvenaz Tash has written anything else, because while I wasn't a huge fan of the protagonist in this story, the background of New York Comic Con and Tash's obvious love of all things nerdy made the rest of it pretty fun.
"And who wouldn't wish that? Certainly everyone here- dressed up as aliens, and wizards, and zombies, and superheroes- wants desperately to be inside a story, to be part of something more logical and meaningful than real life seems to be. Because even worlds with dragons and time machines seem to be more ordered than our own."
Graham and Roxy have been best friends since they were eight years old, after they met and instantly bonded over Harry Potter. Now they're sixteen, and have been working on a comic book series together for years, based on their favorite (and sadly short-lived) comic: Althena. Oh, and Graham realized about three months ago that he's head over heels in love with Roxy. When he finds out that Althena's reclusive author will be hosting a panel at NYCC, Graham plans a whole weekend filled with Roxy's favorite geeky things, and plans to tell her how he feels. Of course, things never worked out as planned.
A lot of this book worked. Everything at NYCC — the John Hughes panels, the costumes, the props and art for sale. All of it came alive and made me badly want to see it for real. The descriptions of the Althena made me want to read THAT more than I wanted to read this book. I love that Tash made her heroine Persian, complete with over-protective parents and a Farsi speaking grandmother who cooks (Tash was born in Iran, and the descriptions of the food in this book made me drool). And a lot of the little throwaway lines were cute, like when Graham discovers that his rival for Roxy's affections has a goddamn British accent.
But man, am I tired of this kind of storyline. Maybe I've been reading too much YA lately. But seriously, how many times do we need to have a boy madly in love with a girl — but completely unable to tell her — who comes up with a grand scheme to reveal his feelings, only to be thwarted by real world circumstances and/or British guys? And of course, the boy must meet a different girl, who instantly likes him, but he's too blinded by his love to see her! At least in this one, Graham actually knows Roxy and has a real relationship with her — she's not some goddess he worships from afar (ahem, fml). But I feel like this particular trope has been done to death. I'm interested to see what Tash could do with something new.
On a totally different note, though, how awesome is the cover of this book?