I should have known how bad this would be after the first couple of chapters, but I stupidly soldiered on. Matthew Quick wrote The Silver Linings Playbook, which was a decent read. This…was not. The tagline for the book is Didn't you ever just simply want to…stop? I should have taken its own advice. But it's not too late for you! Run away! But read my review first — I put pictures in it in order to distract you from the terrible-ness.
Every Exquisite Thing starts with Nanette O'Hare receiving a "cult classic" novel from her English teacher — The Bubblegum Reaper. It's sort of a Catcher in the Rye sort of story For what it's worth, I hated that book, too. If you loved it, you might like this. Then again, if you can get through the summary of The Bubblegum Reaper without rolling your eyes, I'll be impressed. Basically, it's about a teenage boy who falls in love with a girl at first sight, but then discovers she's a twin and he doesn't know which one twin is the one he loves. He makes up a scheme to figure out which is which, which involves inviting one to the prom, and then abandons the plan (and the girl). He never finds out who he loves — he just quits. Oh, and there's a turtle named Unproductive Ted.
Anyway, Nanette feels a strong connection with this tale, and when she discovers that the writer lives nearby, she befriends him — even though he's an ass and won't talk about the book with her. Remember in The Fault in Our Stars, when Hazel's all obsessed with that book and then hunts down the author and then he's an asshole? This is basically the same, only Nanette's personal tragedy isn't cancer, it's that she's really good at soccer (seriously), and people at school think she's gay (which she repeatedly qualifies with, not that there's anything wrong with that).
Also, John Green would never write anything this terrible. And I made it through An Abundance of Katherines, so I know what I'm talking about.
Asshole writer does hook Nanette up with a boy, who also loves the stupid book. As a hobby, this boy goes around beating up much younger bullies (all of whom he calls "pretty boys") because he was bullied as a kid (so it's okay). They spend a lot of time driving around, talking about the book and making out (often indicated by the line, "then we made out for a while"), until he gets sent off to reform school (for punching someone's dad). She sort of writes him off, but not really. Then she starts hanging out his friend, a little kid named Oliver, who's also obsessed with the book. Together, they try to find out who the twins in the book are based on, and then hunt the living one down.
"There are a lot of lonely kids in this world, but the problem is that they don't know about each other. If the lonely kids could just team up, a lot of good things would happen, but the world is incredibly afraid of lonely people teaming up, and so it does its best to keep them apart." These lonely kids team up to stalk an old lady, and one of them punches a grown man in the face. Fun times.
Beyond the terrible plot, the writing is atrocious, especially the dialogue. There's so much telling and very little showing (something Stephen King would tsk tsk at). Characters say things like "cockamamie" and state "we're friends now" or "we're no longer friends". Every other line has something in italics. Nanette exhibits character growth is by suddenly quitting soccer and saying "fuck" a lot (so shocking!). Also, she switches to speaking of herself in third person halfway through because her therapist recommends it. Out loud. Remember Frank? Like that, but less endearing.
It's hard to empathize with spoiled teenagers trying to find their way in the world, but the right author can make it happen. Believe me, I read a lot of YA — those books are out there (shout out to John Green again!).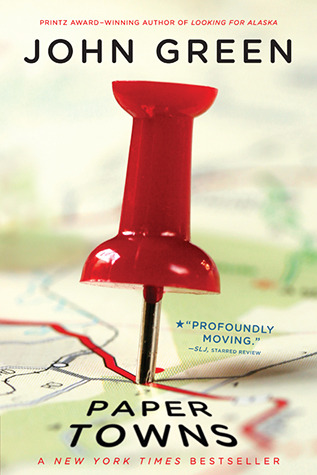 But this book, full of spoiled teens and asshole adults (oh, don't even get me started on Nanette's bizarre, yet extremely indulgent, parents) and middle school bullies is written with such a heavy hand that I felt like I'd taken a beating by the end of it.
And if all of that's not enough to warn you away, there's a lot of really, really bad poetry that I don't think was meant to be bad. But it is. It's very, very bad.
"And I know
That they will never
Keep me down
Because there is always
An exit window
That leads somewhere
No one else will go
And the gambling bastards
Well, they always leave it unlocked
Yes, they do"
— a poem by the guy who beats up little kids
And then
He fell
Out of a window
And died
— a poem by Badkittyuno (no, seriously, he did)
After his death, Nanette proceeds to track down a police officer from earlier in the novel, whose six year old son was abducted and murdered, and asks him for advice on how SHE (in the third person, natch) can move on. From her not really a boyfriend's death. I almost threw my e-reader across the room.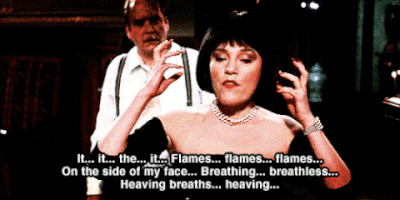 After the boyfriend dies, Nanette (still in the 3rd person), tries to assimilate back with the boozing, sexing teenagers at her school — even going so far as to lose her virginity in a super fucked up scene. She rejoins soccer and entertains scholarship offers. And then on the night of prom, she ditches her date and runs to Asshole Author's house to yell at him about The Bubblegum Reaper again, begging him to tell her what happens after the novel ends (oh my god, Nanette, give it up already!). Asshole Author points out that she imitated the novel by ditching her prom, and then yells at her for a bit, telling her it's just a fucking story and his life isn't so great and MOVE ON ALREADY. Nanette seeks comfort from her best soccer friend, who calls her on her shit (by saying out loud, "I'm calling you on your shit", because you cannot escape from the bad dialogue) and gets thrown out even though I think she made some good points, tbh.
Nanette's big take away from all of this is that she's wildly understood, so she ditches her high school graduation and decides to live freely instead. Because of her art, or something. I'm not sure — my eyes had rolled so much by this point that I was having trouble seeing. And…the end!
On the plus side, I had a lot of fun writing this review. I guess you can call that the silver lining…
Same, Jen. Same.