Please note that I gave this book 4.5 stars and rounded it up to 5 here on Cannonball Read 9.
So I got this book via the library and boy was there a long wait. I think the movie "Arrival" is the main reason why this one took so long to get via Overdrive. I saw Arrival right after the elections and seriously, that was the movie I needed to see at that point. In a big theater with several hundred people getting to watch this amazing story that really showcases why words and language are so important. The visuals were great, so was the music, and the ending left me with so many questions. Once I saw the words based on in the end credits, I made a note of the title and author and promptly went home and put in a hold request. The story based on Arrival is in this collection of works by Chiang. But so are some other stories. Some that definitely made me think and wonder. Some that also made me scratch my head. And there was one that left me feeling somewhat odd and needing to go to church soon. I do love that the overall theme though is how important words and language ultimately are to the people in these stories.
For those who are not used to my reviews based on anthologies/collections, I always give each story it's own rating, and then the overall collection a rating.
"Tower of Babylon" (5 stars)- Who does not know about the Tower of Babylon? I really enjoyed Chiang's look at the workers who built the tower, and what these men really wanted. They wanted to be in the presence of the Creator and wanted to reach the vault of heaven. You actually feel a little sorry for the characters you meet, because you as the reader know how this story is going to end. However, the ending to this one does not follow the Biblical story. It ends up leaving you with a reminder about those who go in search of the divine.  I absolutely loved the description of this epic tower. The people who lived within it, and what the sun, moon, and stars looked like from the top of the tower.
"Understand" (5 stars)-This was more science fiction that most of the other stories. Reading about how a man is given an injection that ends up boosting his intelligence is a trope in many movies/books (Flowers for Algernon anyone?) but Chiang goes a step further showing how this man ultimately starts to believe he is above other humans and goes about seeing hat he can do to ultimately be rid of them. There's just a small flaw in his plan. He may not be the only one out there just like him. The ending was pretty smart I thought.
"Division by Zero" (3.5 stars)- I really didn't get this one at all. Probably because I have loathed math most of my life and I still have bad flashbacks to Algebra II and Calculus I courses. I didn't get what was going on with the mathematical theorem in this one, or why the one character was slowly becoming undone by it. It didn't help that we were going back and forth between two characters this whole story who I was flabbergasted to see were more close than I thought until the end. I don't know, the ending was odd and I maybe went huh a few times.  Okay a lot.
"Story of Your Life" (5 stars)-This is the story that Arrival was based on. I really enjoyed more in depth information that we got in the book. And I finally understood a few things that had me wondering from the movie. This set-up makes better sense than the movie version. Only because there's a minor issue with us seeing Amy Adams character teaching others the new alien language, though the book shows that maybe only two characters can read and understand the language. And the story leaves you with a question about divine will and what you would do if you knew you could alter something, and what if you did alter something but things stayed the same, because if something is supposed to happen, won't it still happen? This is definitely a story that will have you thinking about fate, the meaning of life, and just a ton of other thoughts meant for 3 a.m. when you can't sleep.
"Seventy-Two Letters" (2 stars)-The X-Files did it better. Yeah I said it. Reading about a golem, some weird science fiction explanation that had me scratching my head, and this taking place I think in Victorian times (or another Victorian timeline from our understanding of it) just had me confused.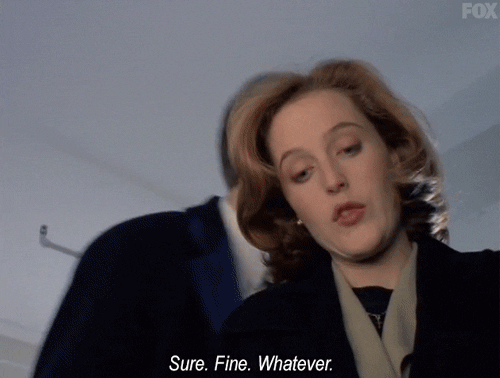 "The Evolution of Human Science" (2 stars)- I really don't get what this was supposed to be. It was so short compared to the other stories and pretty much walks you through how there are metahumans and humans and humans should not be worried about being wiped out because of metahumans. I started humming the X-Men cartoon series theme song while reading this.
"Hell is the Absence of God" (5 stars)-This one was fairly long and I loved the idea about it. I take it based on the author notes at the end that Chiang meant this to be a more modern look at Job. And I definitely loved it from beginning to end. I also kind of love a world where angels just randomly appear and people believe in blessings, or some don't, and the question of salvation and devotion comes up a lot. I was discussing this story with one of my friends who is very devout and he loved the whole story-line. I think I may have caused him to go find this collection because he thought all of the stories sounded interesting.
"Liking What You See: A Documentary" (5 stars) This should seriously be a Black Mirror episode. If I hadn't binge watched the most reason season I probably would not have thought that, but seriously, this short story would be pretty cool to see on screen. The idea that people have the ability to have something called a calli turned on and off. Calli allows you through something called Spex to view people as if they had cosmetic surgery. In people's minds, if everyone is equally beautiful this would lead to a utopia since no one would be discriminated against for not being beautiful or having perfect features. This whole thing is messed up and I adored every second of it. I think an article I read a few years ago talked about this about how people are more apt to think a beautiful person is telling the truth than those who are not deemed beautiful. I distrust most people until I know them better, and have had grown men and women look me in the eye and lie to me (and yeah I knew it, sometimes I love my job, other times I just sigh) so I think that depending on your job, beauty doesn't factor into it much. I tend to look at body language a lot when talking to anyone in order to determine if someone is not being truthful. Anyway, this documentary style story was great. You get to follow several characters and follow a proposal that would enforce all kids who attend one college to always have calli due to many thinking lookism causing a lot of problems in the world.