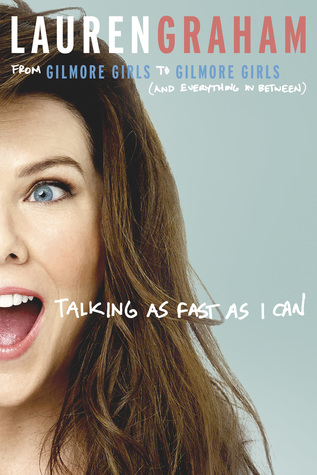 I am and always will be a huge fan of Gilmore Girls. I started watching the show when it premiered and as a nerdy brunette who loves to read, who was also the same age as Rory Gilmore, I identified with her strongly — despite the fact that my mother is a good thirty years older than I am. I love and cherish the show and still re-watch it every six months or so. The last couple of seasons aren't so great, but they're forgivable when taken as a whole. So I was excited but also nervous when I heard that they were bringing the show back. It just didn't seem necessary, but I was hoping to get to spend some time with my favorite characters again. Unfortunately, I found myself pretty disappointed by the revival. Rory hadn't grown up one bit, and other than the scenes between Lorelai and Emily, it was just not compelling. And that musical, despite my deep love for Sutton Foster in Bunheads, was horrifying. But that's not what I'm reviewing here. When I'm reviewing here is Lauren Graham's autobiography, which gave me everything I wanted and didn't get from the Gilmore Girls revival.
Graham talks about her early life a bit here, and her rather unusual upbringing, part of which includes living on a houseboat the Philippines with her father. Then she talks about breaking into showbiz and all of the many, many auditions she had to go on, and commercials she acted in, in order to pay the bills. But the memoir really begins to shine when she starts talking about the Gilmore Girls. She actually watches the series (which she's never done) in order to write the book, and gives us a little bit of behind-the-scenes information about each season. That, for me, was all I really wanted out of this book. She also talks about the revival and gives us her perspective on a few different things. She liked musical (or said she did), but I forgive her for that. Warning: if you have not seen the revival, and want to remain unspoiled, you probably shouldn't read the book yet.
She also talks about Parenthood (which I haven't watched, but have heard it's very good) and her relationship with Peter Krause — who I love dearly because of Sports Night. They seem wonderfully happy together and hopefully that doesn't change. Overall, Graham comes off a lot like her character on Gilmore Girls — very chatty, full of caffeine, and a lot of fun to hang out with. I listened to the audio version, which was particularly delightful. I would recommend this book to any fan of hers, but having a deep deep love for Gilmore Girls will definitely make it more special for you.