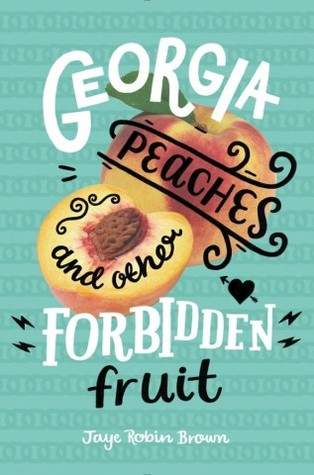 This was such a cute book, and full of great messages — love yourself, be yourself, God loves everyone, it's okay to be gay, accept people for who they are, etc — that this straight married atheist absolutely loved.
Teenager Jo Gordon has been out and proud for years, and her radio evangelist father has always supported her. Unfortunately, the summer before her senior year, he remarries for the third time (to a much younger woman), moves Jo from fairly accepting Atlanta, GA to the much more conservative small town of Rome, and asks her to "just keep it under wraps" for a year to make things go more smoothly with his in-laws. Jo reluctantly agrees, to make her father happy and to guarantee her pre-college road trip with her BFF. She tones down her hair and style, and does everything she can to fit in at her new school. Then she falls head over heels for her new friend Mary Carlsen.
Like I said, the book has a pretty strong religious element, and while that's not normally my thing, I like the way the author approaches it and the message she's sending. Jo's very spiritual, and wants to use her father's radio show to reach other kids like herself, who may be struggling with their identity within their religion. There's a good balance of open-minded people and complete assholes in the book, and she does her best to deal with them all. Brown plays a bit with Southern stereotypes (a main character named Mary Carlsen, for instance), but doesn't make a fool out of anyone. Jo also makes some pretty big mistakes, and learns and grows throughout the course of the novel. It's really a good read.
Oh, and Mary Carlsen's brother B.T.B. — lover of all elephants, all the time — rocks.