I started this year with a plan to review every book I read, but that fell by the wayside pretty quickly, because there are just some books about which I have nothing to say. It may be that they are neither good, nor bad, or they are fine, but not interesting, or they are bad, but not offensive. I recently read two installments in Sarina Bowen's True North series, and initially thought they would remain among the unreviewed.
Alwaysanswerb's review of The Chocolate Rose made a light bulb go off in my head about my problem with a bunch of contemporary romance writers, and clarified my feelings about Bittersweet and Steadfast enough for me to eke out a review. In alwaysanswerb's review, she says,
… I am tired of exposure to this brand of male tears either in truth or in fiction.
It was like a gong going off in my head. Yes! That is my problem with several books I've read recently – male tears. By male tears I don't mean a man showing his emotions and engaging in intimacy. I mean the emotions of a man being valued more highly than anything else – including plot and the rights, agency, and emotional life of everyone else. Even worse, male tears are a lazy and boring. Instead of exploring real complexity, the writer defaults to the oh so (un)interesting drama of the cis white male.
Last year, a bunch of us fell in love with Sarina Bowen's The Ivy Years series, right up until the last one where she seriously disappointed us. Bowen looked like she was going to be another member of the Feminist Romance squad, and she has an interest in exploring challenging characters and situations – a partially paralyzed female athlete, the daughter of a high profile pedophile, a woman who was roofied and slut shamed. In The Fifteenth Minute, she attempted to explore the problems with sexual assault investigations on campuses, but ran afoul of her apparent inability to create a tragic hero without being overcome by male tears.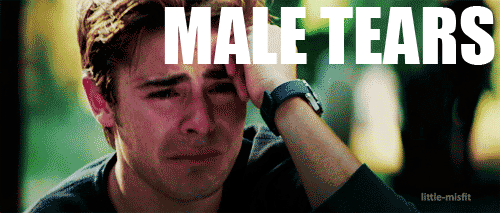 I don't really want to talk about The Fifteenth Minute again, so let's look at her heroes in Bittersweet and Steadfast.
in Bittersweet, Griff is not a tragic hero. His life isn't perfect, he has burdens, but he is not beset by tragedy. Audrey is also struggling with her own mostly normal early 20's issues, but no major dark cloud hanging over her. We spend about half the book in each of their heads and they are pretty equal in in having goals and interests in their own lives Bittersweet is perfectly nice early adult contemporary romance. Mainstream romance is typically cis-normative and hetero-normative, and often reinforces patriarchy prescribed gender roles. Bowen certainly seems to be doubling down on those norms and gender roles in these books. The primary conflict between Griff and Audrey are their conflicting goals. Griffin wants to support Audrey's dreams, even though we know all through the book that she will be happiest on his farm, cooking in his kitchen, as a part of his agrarian multi-generational traditional marriage family. Did I review Bittersweet just to bitch about the patriarchy? No, I did it to show that a minimum of male tears equals a perfectly satisfactory, if not particularly memorable, romance.
We are here to talk about Bowen falling into the Pit of Male Tears with Jude. We meet Jude in Bittersweet, fresh out of jail and rehab. He's a recovering junky and was convicted of killing his girlfriend's brother while driving under the influence. In Steadfast, Jude goes out on his own and reconnects with his ex-girlfriend, Sophie. We spend half the book in Sophie's head, but I really couldn't tell you much about her. She doesn't seem to have, or have ever had, any internal life outside Jude.  Jude is the hero and the ingenue. Sophie plays whatever role is most necessary at the moment to fully explore Jude's story – victim, savior, tormentor and soother of Jude's furrowed brow.
Part of Bowen's problem is that once again she has made her tragic male hero as perfect as possible, and therefore inherently boring. Jude is the best recovering opiate addict ever. Sure he has cravings, but he manages them with strength of will and once a week NA meetings in which he barely participates. He doesn't need a sponsor, and he's totally capable of having a mature and emotionally intimate relationship after only 8 months of sobriety. Even when he was an addict, he was a kind and loving boyfriend, who was occasionally twitchy and evasive. In contrast, Sophie's father and brother were the worst, so we can't feel too bad for the brother's death or the father's grief. Instead of really exploring what it would be like to reconnect romantically after a terrible betrayal and horrific accident, Bowen gives us Jude the mostly pure and Sophie the devoted. In the end, Bowen even strips away Jude's major crime. Bowen may not be into slut-shaming, and she may like athletic women, but when a man is in pain, the whole world must revolve around him, and all his problems must be solved. It's a shame, really. She has tremendous potential to be a truly great romance writer.
Please don't get me wrong, there is no reason the male character can't be the ingenue in a romance. I'm all in favor of gender flipping roles. However, we've heard so many stories about men growing as people, that if they are going to invade the space where women are the agents of change – romance – the story and characters had better be interesting.