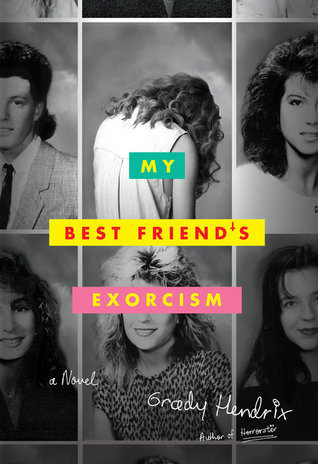 Grady Henrix wrote this fantastic book called Horrorstör, about a haunted Ikea-knock off, that I just loved. It was weird and gross and all around awesome. His next novel, My Best Friend's Exorcism, does not disappoint; in fact, it's even weirder and grosser and awesomer.
"'Hot damn!', he shouted. 'We got ourselves a demon!'"
Set in the 1980s (and wonderfully so — this book is packed to the gills with 80s pop culture), My Best Friend's Exorcism is about…well, exactly that. Abby's best friend Gretchen disappears into the forest at a party one night, tripping acid. She shows back up the next morning, naked and bloodied. Abby feels certain that her friend's boyfriend attacked Gretchen, maybe even raped her, but no one will listen. Gretchen withdraws at first…and then starts acting very, very strange. And somehow good girl Abby ends up taking the brunt of the new changes in her friend.
This book gets pretty fucked up, very gross and creepy, but it's handled in a way that makes it more fun than nasty (some of it's pretty nasty though). The exorcist that Abby "hires" cracked me up, while the things Gretchen does get progressively worse and worse. This book would make a fantastic horror movie — one that I probably wouldn't have the guts to see.