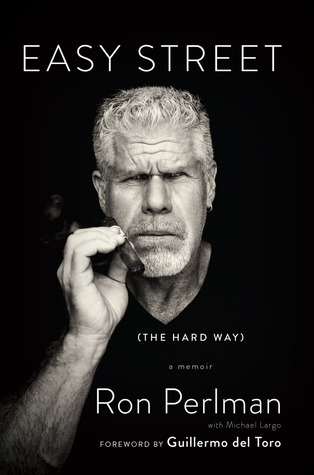 What a cover. Don't you just want to have a drink with this guy?
"No matter what line of work you do, success cannot truly be achieved until you own who you are. The most offensive liability then becomes an asset. It makes you perform your best, regardless of the challenges you might face."
Perlman tackles a lot of personal things in this memoir: his childhood as "the fat kid", father's sudden death at a young age, his brother's fight with mental illness (and eventual suicide) and his own mental health issues that almost led to own suicide. He talks about breaking into show business, a series of starts and stops that tormented him for years. He tells some great stories about working with Jean-Pierre Jeunet and Marlon Brando, and his friendships with Sammy Davis, Jr and Frank Sinatra. He does all of this in exactly the way you'd expect him to talk: lots of cursing and colloquialisms. It should seem hokey, but he makes it work.
What disappointed me with this memoir is how suddenly it ends. He goes into great detail about his early work — theater, Quest for Fire, Beauty & the Beast. He also spends a lot of time discussing his own therapy with Dr. Phil Stutz (that goes on a bit long, honestly). But I know Perlman from two roles: Hellboy, and Clay Morrow. I was particularly interested in hearing some behind the scenes info on Sons of Anarchy (one of my all time favorite shows), like he gossiped about every other project he worked on. But Hellboy and Sons get only a few pages each, at the very end, leaving me wanting.