M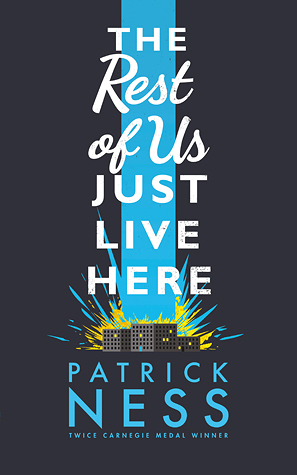 y recommendation for The Rest of Us Just Live Here also came from that "awesome first lines" list (which must have been YA focused, now that I think of it). I've only ever read Patrick Ness's Chaos Walking series, which I loved up until the ending. But I went with this one based on its great premise, and I'm happy to say it delivered!
"CHAPTER THE FIRST, in which the Messenger of the Immortals arrives in a surprising shape, looking for a permanent Vessell; and after being chased by her through the woods, indie kid Finn meets his final fate."
So each chapter starts with a short summary like the above quote — a brief description of what the "indie" kids are doing. The indie kids are the ones who always have the weird shit happen to them — they fall in love with the vampires, battle the soul-eating ghosts, try to stop the Immortals, etc. They're the Harry Potters, the Simon Snows, the Katniss Everdeens. But they're not our focus in this novel — instead, we get to hang out with Mikey and his friends, with all that nonsense going on in the background.
Mikey and his friends have plenty of issues of their own — anxiety, eating disorders, romance, etc. They're very realistic teenagers, and they're a great group — funny and bonded and still able to make each other crazy. They struggle to deal with their own shit throughout the last semester of high school, all the while hoping that the indie kids don't blow up the high school.
Ness delivers humor and warmth here. He pokes fun at stereotypes and tropes from teen novels and stories going back to Shakespeare. It's a really well written book, and I recommend it to anyone who loves YA.
(This Bust article on it is fantastic, by the way: http://www.bustle.com/articles/115555-7-ways-patrick-ness-the-rest-of-us-just-live-here-serves-up-snark-with-his)