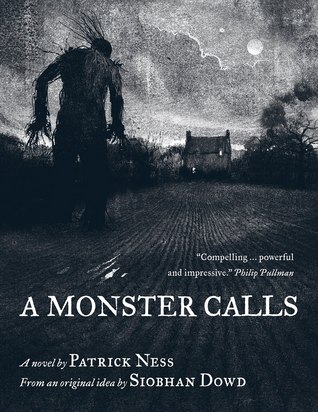 This book is creepy and sad in equal turns, and I read through the whole thing without putting it down once. I was pretty much a wreck by the end.
"There is not always a good guy. Nor is there always a bad one. Most people are somewhere in between."
Some neat backstory on this one: an author named Siobhan Dowd came up with the original concept, and discussed it with Patrick Ness. When her death prevented completion of the project, Ness took the idea and ran with it. I bet she'd be pretty happy with the results.
Every night at seven past midnight, a monster comes to Conor's window. The monster insists that Conor has called for it, to tell him three stories. After the three stories end, Conor must tell one — the true one. The stories mix good and evil in a way that frustrates Conor, and while he waits each night for the monster, he's terrified of his own turn.
Conor's true story will break your heart, as will everything leading up to it. I loved the monster — the illustrations, too. But Conor will be the one who sticks with you long after you finish this one.