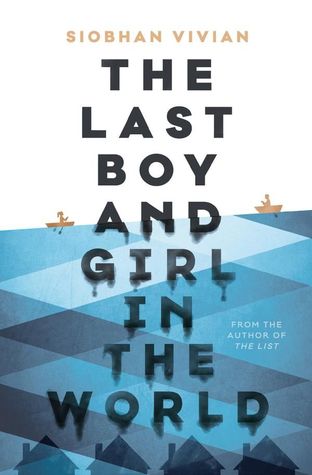 This was one of those teenage wish-fulfillment books that tried to be more than that, and sort of succeeded, but…not really.
"But when the rain first began to fall, we didn't see the bigger picture…When it started, the only thing I cared about was kissing Jessie Ford."
The town of Aberdeen has been sinking for years, ever since the old mill shut down and the population began to drop. But after a record season of storms, and the discovery that the town shouldn't have been built on such low land to begin with, it seems like it might literally end up under water. But for (self-centered little brat) Keeley Hewitt, none of that matters. She's entirely focused on dreamboy Jessie Ford, who has inexplicably become interested in her, after years of her pining after him.
The town going under water thing is pretty cool — there's a whole plotline about the town's reaction (led by Keeley's father) and the descriptions about the weather really added to the atmosphere. But man, I could not stand Keeley or her obnoxious boyfriend or how poorly she treats her friends throughout the book. I really think this is YA that's aimed at actual young adults, not 30 year old women who like to read YA. I can see how Jessie and Keeley's teenage love in the face of disaster might appeal to some, but I personally wanted to storm to take them both out as soon as possible.