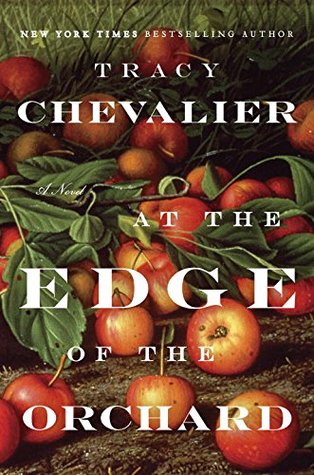 This booked exhausted me — I couldn't stand the characters (I believe one of my status updates while reading it wished death upon the mother) and it was just horrible event after horrible event. I get that the 1830s were probably not the greatest time to be alive, but still!
"Prying out a stump reminded him of how deeply a tree clung to the ground, how tenacious a hold it had on a place. Though he was not a sentimental man – he did not cry when his children died, he simply dug the graves and buried them – James was silent each time he killed a tree, thinking of its time spent in that spot."
The Goodenough family settled in Black Swamp, Ohio after being asked to leave their family homestead in Connecticut — partially because husband James was one of the younger children, and there wasn't enough to go around, and partially because mother Sadie was evil and kept sleeping with James's brother. James has brought with him his family legacy — appleseeds. He works tirelessly to cultivate an apple orchard in the middle of a swamp, while his children die around him and his wife plots to thwart his dream every chance she gets (Sadie was one of the cruelest characters I've ever read, with absolutely no background to explain why, which made me crazy. Kudos to whoever voiced her on the audio version though — gave me chills). The story then jumps forward to the 1850s, when their youngest son has moved west to make his fortune (and escape the swamp and his family, not necessarily in that order). Little by little, we get information about what happened in the years between — and the fate of the Goodenoughs.
Like I said, the characters in this just wore me out. Sadie's an evil drunk. James is a bit more sympathetic, but still obviously holds his trees in higher regard than anything else, including his poor children. And Robert, the son we follow to California, makes bad decision after bad decision. The only thing that saved this for me was Chevalier's writing, and the trees. I did love the descriptions of California, and Robert's work there (collecting seeds and saplings to ship to Europe). But I could have done without the Goodenoughs.