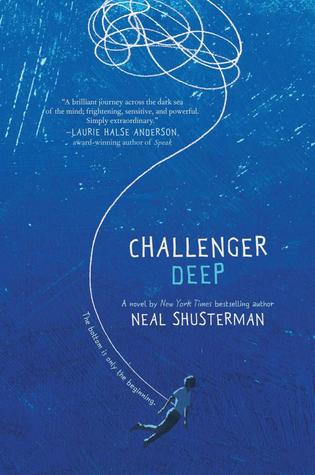 This was a very strange, very trippy book. The reviews on Goodreads said to stick with it — it'll start to make sense. I don't necessarily agree that it really ever makes sense, but I did appreciate it when things finally began to gel a bit.
"The fear of not living is a deep, abiding dread of watching your own potential decompose into irredeemable disappointment when 'should be' gets crushed by what is. Sometimes I think it would be easier to die than to face that, because 'what could have been' is much more highly regarded than 'what should have been.' Dead kids are put on pedestals, but mentally ill kids get hidden under the rug."
It makes sense that Challenger Deep makes no sense, as it's Neal Shusterman's effort to put mental illness into print form (he writes in the afterward about his inspiration: the troubles his own son has gone through). Our protagonist, Caden Bosch seems to be losing his grip on reality. Sometimes he's with his family, or in school — where he worries that some unknown kid wants to kill him. Other times, he's on a ship run by a crazy captain (with a parrot giving advice), determined to reach the bottom of the ocean. As the two realities begin to come closer together, we start to see how badly Bosch needs help — and how hard of a time he's having getting it.
Like I said, the metaphor of the ship and the captain and the other crewmates (some of whom don't have brains!) starts to really make sense about three quarters of the way in. And by the time you get there, you really have a grasp on what Caden's going through. It's an interesting way to portray mental illness (very different from another book I just read and am about to review), but pretty effective as well.