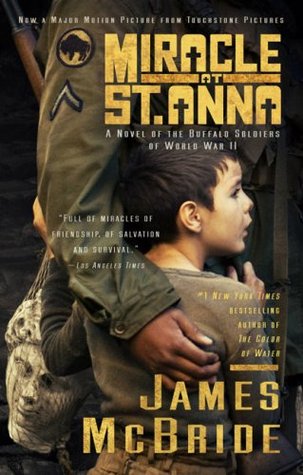 I've read a lot of books set during World War II, but only a couple that centered on Italy, and this is the first I've read that's dealt specifically with the Army's 92nd Division — aka, the Buffalo Soldiers.
"To fight the enemy? Which enemy? The Germans? The Italians? The enemy was irony and truth and hypocrisy, that was the real enemy. That was the enemy that was killing him."
Towards the end of World War II, four soldiers with the 92nd Division get separated from the rest of their unit in the mountains of Italy. One man, a "gentle giant" named Train, has found a wounded young Italian boy and desperately wants to save him. The four men end up the small village of St. Anna di Stazzema, where the occupants take them in. All the while, the war rages around them, and resistance within the village puts them in great danger.
To be honest, I wasn't too taken with the plot. I liked the characters, Train particularly, but I found the author bounced around too much in history and I kept getting lost. But I did love the background — I knew next to nothing about the Buffalo Soldiers in World War II, and I'm eager to learn more. These men gave their all for a country that didn't even treat them like citizens — all because they wanted to help, or needed a way out, or didn't have a choice in the first place. I feel like more of their story needs to be told.