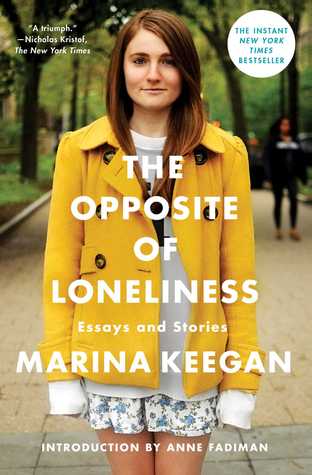 In May 2012, Marina Keegan had a lot to look forward to. She graduated magna cum laude from Yale, had a play being produced at the New York International Fringe Festival, and lined up a job at The New Yorker. Just before she graduated, Marina wrote an essay titled "The Opposite of Loneliness." Five days after receiving her diploma, Marina died in a car crash. She was 22 years old.
"We're so young. We're so young." Marina wrote in her final essay. "We're twenty-two years old. We have so much time." Of course, she didn't, but her palpable excitement about a future she would never experience took the air out of me.
Keegan's first (and last) book, named after her commencement essay, is a collection of short stories and essays. I was initially hesitant to pick up this book, worried it would be some macabre vanity project. I thought back to everything I wrote during my serious writer phase in college and shuddered at the idea of strangers reading it. My cynical frontal lobe wondered if this book, with its beaming, confident author on the cover, was anything more than a marketing ploy.
And I've never been so relieved to be wrong. Keegan wrote simply, without flowery language or studious vocabulary. She wrote her age, talking about "hooking up" and "stuff. "Her work wasn't full of complicated symbolism, or cerebral messages. They were about people. Some of her stories were about people like her, college students looking for their places in the world. But she also wrote about a disillusioned soldier in Baghdad, a hypochondriacal retiree, and doomed expedition under the sea. Keegan was talented and she was ravenous, excited about tackling any subject she could think of.
Having said that, I wouldn't have liked this book as much had I not known what happened to Keegan. This is an impressive debut, but if she were still alive I would have marked her as someone who needed a little more time to cook before she truly came into her own. She tried too hard to be profound, and I didn't like some of her stories/essays. She needed more time, and she'll never get it.
But it's impossible to read this book without getting chills. Keegan writes about a future we know she'll never experience. One essay starts with a list of all the food she'll eat on her deathbed. She repeatedly references the children she'll have "someday" and the kind of mother she'll be. Her first short story is about people coming to terms with a classmate's death. "I plan on having parties when I'm 30,"she writes. "I plan on having fun when I'm old."
In the end, The Opposite of Loneliness manages to distill a simple, almost clichéd truth-that tomorrow is not guaranteed. It's easy to put off a difficult decision. As college grows into a more distant memory, it's easy to give into defeatism, to mock the idealistic dreams you used to hold on to. It's easy to think that good enough is good enough. And then you read this girl's words, listen to her painfully exposed hopes and dreams, and it's like a shot to your system. "We're so young," Marina Keegan wrote just weeks before she died, "We can't, we MUST not lose this sense of possibility, because in the end, it's all we have."