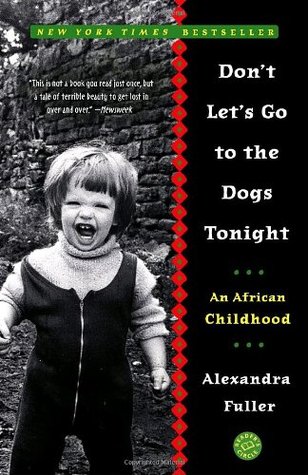 "How you see a country depends on whether you are driving through it, or live in it. How you see a country depends on whether or not you can leave it, if you have to."
Alexandra Fuller grew up in Africa, the daughter of a manic depressive alcoholic mother, and a father who scratched out a living on various farms while also serving in the army, fighting the rebellion in order to ensure white rule. She and her older sister Vanessa learned how to kill snakes, avoid landmines, and survive in an incredibly harsh environment. All the while, they remain steeped in the extraordinary racism of their parents and white neighbors — a world view that drastically changes for Alexandra after Zimbabwe gained independence in 1980.
The memoir moves around in time, catching various moments in Alexandra's life. The hardest are the deaths of three of her siblings — a never-known older brother who died of meningitis in a dirty little hospital, a little sister who drowned in a pond because no one was watching her, and a little brother who died shortly after a premature birth. After the death of the sister, Olivia, Alexandra's mother goes from being a happy, slightly nutty woman to a depressed alcoholic, with occasional manic bursts. It's horrifying to see the change in their already difficult lives, especially since Alexandra blames herself for Olivia's death.
Well written and captivating, Don't Let's Go to the Dogs Tonight will introduced me to a childhood and a world that I didn't even know existed. I finished it, and immediately picked up Fuller's follow up — Cocktail Hour Under the Tree of Forgetfulness.